The Stuart Mill spider orchid – an elusive gem of the bush
By Priya Mohandoss MRSV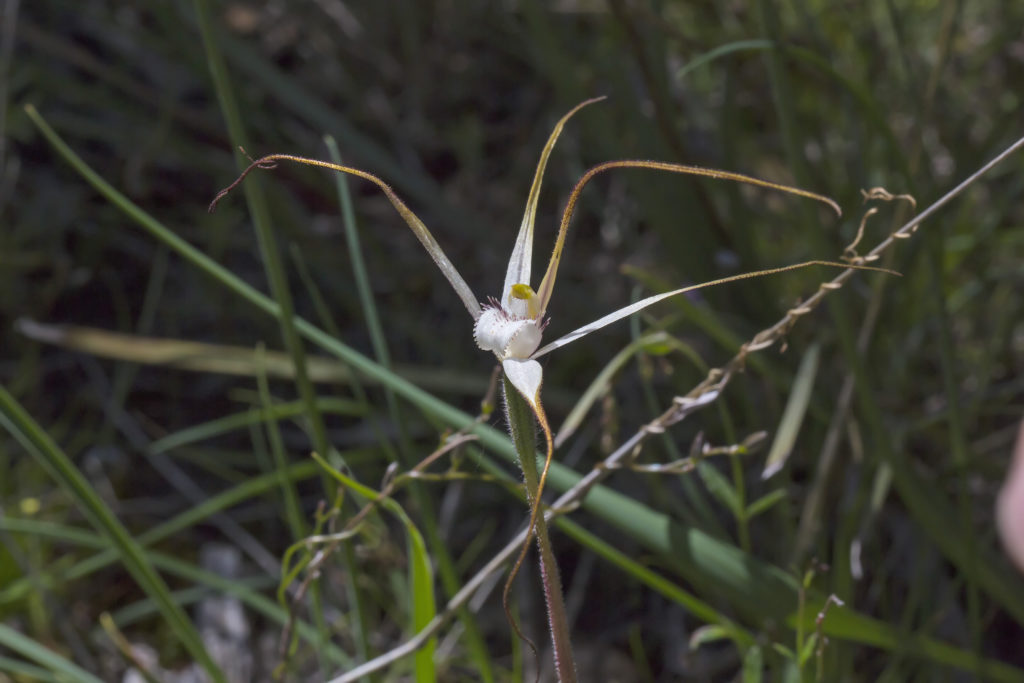 Victoria has more than 400 species of native orchids with many occurring nowhere else on Earth.1 Among these is the endangered Stuart Mill spider orchid.2
The species is aptly named, as it is found in a protected pocket close to the Victorian town of Stuart Mill, in the John Colahan Griffin reserve about halfway between Bendigo and the Grampians/Gariwerd. Unlike other areas nearby, where much iron-bark forest had been cleared during early settlement, this reserve has been left intact. Consequently, this 'ancient woodland', with several species of eucalypts over 300 years old, is able to act as a natural corridor that protects and provides for the spider orchid and other native species.3
A species under threat
With its conservation status of much concern, the population of this species has dwindled due to significant habitat loss. A number of external threats such as introduced plant and animal species, land clearing, stock grazing, and the impacts of climate change influence its chance of survival.
The Stuart Mill spider orchid can adapt to drier climates, staying dormant in dry years and only resurfacing after enough rainfall; however, this is unlikely to be enough to overcome other impacts associated with the variability of weather. Climate change has led to plants budding later than usual after summer dormancy, lower numbers of flowering plants, and shorter flowering times, thereby reducing the species' ability to undergo pollination and survive.4
Furthermore, unprecedented weather changes such as drier, shorter seasons may lead to its tuber (the underground section for nutrient storage) becoming smaller, resulting in fewer resources for the next season, and a plant less likely to endure.
Conservation efforts
Within the North Central region of Victoria, a program has been set up in 2008 to propagate this species. Ecologist Julie Radford – "the orchid whisperer" – has worked with threatened native orchids for more than a decade and runs an orchid conservation program in central Victoria.5
To grow the seeds, the first stage involves hand pollination, where pollen is removed from one species and put into another one. After a few months, seed capsules form and are gathered. Each one contains a multitude of seeds that look like finely ground pepper. These seeds, along with specimens of plant tissue, are sent to the Royal Botanic Gardens Victoria as part of their Orchid Conservation Program for the remaining stages.
Research ecologist, Dr Noushka Reiter, who leads the Orchid Conservation Program, starts the process of germination. She grows seeds in petri-dishes on top of a fungus that encourages them to sprout, allowing for tubers to grow. After about three to five years, the young specimens are then ready to be introduced into the reserve.
Julie and others that assist with this program have increased the number of Stuart Mill spider orchids from 12 in 2008 to about 186 in 2017, with the goal of achieving 1500 self-sufficient plants across the Stuart Mill area by 2030.6 While these conservation efforts provide optimism, this species needs to be closely followed and supported to ensure its continued survival.
—
Priya Mohandoss is an RSV member and has a Bachelor of Science and both Masters of Journalism and Communications and Media Studies from Monash University.
This piece appears in the September 2023 edition of Science Victoria magazine. All issues can be read online for free at rsv.org.au/Science-Victoria.
References:
Orchid conservation (2023). Retrieved from rbg.vic.gov.au/support-us/orchid-conservation/
Stuart Mill Spider-Orchid (2023). (Caladenia cretacea) Retrieved from inaturalist.rg/taxa/949144-Caladenia-cretacea
John Colahan Griffin (2023). Retrieved from bushheritage.org.au/places-we-protect/victoria/john-colahan-griffin
Legislative Council Environment and Planning Committee. (2021). Inquiry into ecosystem decline in Victoria.
Gibson, B. (2019, December 14). Julie Radford is Victoria's 'orchid whisperer', propagating rare native orchids one tiny seed at a time. Retrieved from abc.net.au/news/2019-12-14/julie-radford-is-victorias-orchid-whisperer/11788832
Lyons, J. (2018, June 25) Orchid rescue. Bushtracks Bush Heritage Magazine. bushheritage.org.au/getmedia/640aaeae-022b-496c-9e4e-62e792a2f4f3/Bush-tracks-winter-2018