Our Service Offerings
Following the 2020-1 lockdowns, our building has now reopened for meetings.
Services
The RSV engages communities with scientific knowledge through aligned partnerships, special events, festivals, conferences and education programs. We provide services in event management, meeting venues, grants and awards administration, broadcasting and video production, social media campaign management, recruitment of scientific panels and convening community engagement and deliberation processes where scientific work contributes to social, environmental and economic impacts and benefits.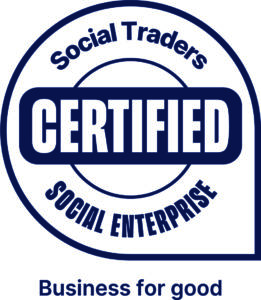 We broker within our extensive network to bring scientific expertise to bear on specific issues and projects; please contact us to discuss your needs and ideas.
We are registered as a Certified Social Trader working for the benefit of Victorian communities, which makes our services eligible under the Victorian Government's Social Procurement Framework, as well as the social procurement guidelines of the governments of New South Wales and Queensland. Our certification also assures industries of our authenticity in building social procurement into services and supply chains.
Facilities
The Royal Society of Victoria's rooms and facilities are available for hire to organisations, companies or private groups. This heritage-listed building opposite the Carlton Gardens is suitable for a wide range of events, including conferences, seminars, meetings and private functions. Limited parking is available on site and a commercial parking operator is adjacent on La Trobe Street.
Ground Level
The Burke and Wills Room – A multi-functional space adjoining a caterer's kitchen, suitable for workshops up to 30 people, dinners up to 60 people, seminars, cocktail parties, catering, etc, capacity up to 80 people.
First Floor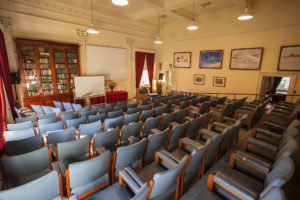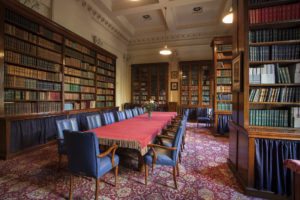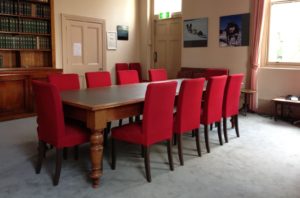 The Society has audio visual and seminar equipment available for use, including videoconferencing facilities. There is a commercial kitchen, suitable for your own use or use by a caterer, adjacent to the "Burke and Wills Room" at ground floor level.
For more information and bookings contact our Business Manager on 03 9663 5259 or by email at [email protected] .