Upcoming Events
Talks, Tours, Lectures, Conferences & Symposia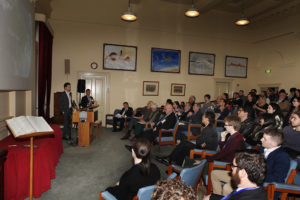 The Royal Society of Victoria offers a rich program of events concerned with science in Victoria and its place in our society. Our "ordinary meetings" represent our core lecture program, generally provided on the second and fourth Thursday of the month. The lectures are low cost and open to the public, free to our members. Evening lectures generally start at 7:00pm; the venue is the Society's Ellery Theatre, upstairs at 8 La Trobe Street, Melbourne. We also convene ad-hoc events, forums and conferences each month with our partners, and occasionally host events at other locations around the state.
For a small cost, members and guests are invited to socialise and network over food and drink ahead of our lectures; tickets for both lectures and social components are available from each event's page. The listings below provide details of all currently programmed events.
Statewide events convened under the Inspiring Victoria program are generally listed on the related website maintained by the Society: inspiringvictoria.org.au
Upcoming Lectures:
Upcoming Collaborative Events:
The Royal Society of Victoria provides a platform to partners and friends to present opportunities for collaboration in the research sector, the science education and promotion network, the science communication and writing community, or to promote participation, diversity and inclusiveness in the sciences.
No Events
Upcoming Field Trips & Tours:
RSV members visit facilities and locations concerned with the application of science in research and industry, including sites of ecological, historical and geological significance throughout regional and metropolitan Victoria.
Date/Time
Event
Saturday 23 November, 2019 - Sunday 24 November, 2019
10:30 AM - 6:00 PM
Campfires & Science: Wild DNA at Yellingbo


Join us for the latest 'Campfires and Science' event at Yellingbo, where we'll be teaching people how to look for critically endangered animals and leading trips to plant trees and remove invasive species.

We'll be joined by Taungurung man, Shane Monk, who will give a Welcome to Country and a 'walk and talk' education session in the forest. We'll also be learning how to gather DNA samples in the wild and analyse them in the forest with a portable 'lab'. 
Upcoming Members' Only Events:
Members convene to refine the Society's strategic focus, discuss issues and concepts in science, or to seek opportunities to develop and explore the science world.
Date/Time
Event
Thursday 12 December, 2019
6:30 PM - 9:00 PM
The 2019 RSV Research Medal Lecture & 160th Anniversary Dinner


Members are invited to commemorate 160 years since the official opening of the Royal Society of Victoria's Hall on 10th December, 1859 by Sir Henry Barkly, Governor of Victoria.

The evening will begin with the presentation of the Society's Medal for Excellence in Scientific Research, now in its sixtieth year, to the 2019 Medallist (to be announced shortly), and the Medallist's Lecture. Following the presentation, members and their guests will celebrate an outstanding year of science engagement with Victorian communities at a special cocktail dinner function, featuring short presentations from our President and a small selection of the RSV's many wonderful partners and collaborators.
Upcoming Conferences & Symposia:
The Royal Society hosts or collaborates to present conferences and symposia on a range of topics across the disciplines, and also on cultural themes concerned with science; current details are available below.
No Events