Upcoming Events
Talks, Tours, Lectures, Conferences & Symposia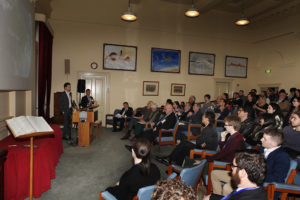 The Royal Society of Victoria offers a rich program of events concerned with science in Victoria and its place in our society. Our "ordinary meetings" represent our core lecture program, generally provided on the second and fourth Thursday of the month. The lectures are low cost and open to the public, free to our members. Evening lectures generally start at 7:00pm; the venue is the Society's Ellery Theatre, upstairs at 8 La Trobe Street, Melbourne. We also convene ad-hoc events, forums and conferences each month with our partners, and occasionally host events at other locations around the state.
For a small cost, members and guests are invited to socialise and network over food and drink ahead of our lectures; tickets for both lectures and social components are available from each event's page. The listings below provide details of all currently programmed events.
Statewide events convened under the Inspiring Victoria program are generally listed on the related website maintained by the Society: inspiringvictoria.org.au
Upcoming Lectures:
Date/Time
Event
Thursday 27 February, 2020
7:00 PM - 8:15 PM
Diamonds: an Implant's Best Friend


Associate Professor Kate Fox
Biomedical Engineer, School of Electrical and Biomedical Engineering, RMIT University

Thursday 12 March, 2020
7:00 PM - 8:15 PM
Sustainable Energy Generation through Exciton Control


Dr Wallace Wong
Senior Lecturer, School of Chemistry, University of Melbourne and Program Leader, ARC Centre of Excellence in Exciton Science
Upcoming Collaborative Events:
The Royal Society of Victoria provides a platform to partners and friends to present opportunities for collaboration in the research sector, the science education and promotion network, the science communication and writing community, or to promote participation, diversity and inclusiveness in the sciences.
Date/Time
Event
Tuesday 24 March, 2020
9:00 AM - 4:00 PM
Impact7 - Towards a Better Tomorow


Short, 3-minute presentations by researchers and entrepreneurs will share how they are contributing to eradicating disease or poverty, ensuring the security of our food for generations, preserving our natural environment, or reinventing the future of our industries. An amazing opportunity to witness first-hand the cutting-edge research making a difference. You will hurt your head, make meaningful connections and leave with inspiration to burn!
Upcoming Field Trips & Tours:
RSV members visit facilities and locations concerned with the application of science in research and industry, including sites of ecological, historical and geological significance throughout regional and metropolitan Victoria.
Date/Time
Event
Saturday 14 March, 2020
11:00 AM - 5:00 PM
Wild Restoration at Organ Pipes National Park


Come and learn how to get involved in restoring native habitat and species at Organ Pipes National Park. Hear from experts, learn about using DNA to find species, go 'Fishing for Science' and hear from Wurundjeri elders. Activities for all ages and abilities!
Upcoming Training & Workshops:
The Royal Society hosts or collaborates to present training programs on a range of topics related to communicating or supporting scientific endeavour and scientific literacy.
Date/Time
Event
Wednesday 29 April, 2020
9:00 AM - 5:00 PM
Media and Communication Training for Scientists


The RSV continues to partner with Science in Public to deliver their flagship media training program to scientists in Victoria. Meet local journalists and learn how to ensure your research is reported accurately. Practice being interviewed on tape and in front of camera by real journalists. Find out how the media works and how you can make it work for you. Gain confidence in talking about your research so that it has impact with media, government, industry and other stakeholders.

Thursday 30 April, 2020
9:00 AM - 4:00 PM
STEMM Fundraising: Success is not Accidental


Successful fundraising requires strategy and a detailed action plan to succeed. In this very interactive workshop, RSV President & CEO of Possibility Australia, David Zerman will share secrets that have enabled him to lead and work with teams that have raised and disbursed more than $220 Million over the past 30 years.
Upcoming Members' Only Events:
Members convene to refine the Society's strategic focus, discuss issues and concepts in science, or to seek opportunities to develop and explore the science world.
No Events
Upcoming Conferences & Symposia:
The Royal Society hosts or collaborates to present conferences and symposia on a range of topics across the disciplines, and also on cultural themes concerned with science; current details are available below.
No Events