Upcoming Events
Talks, Tours, Lectures, Conferences & Symposia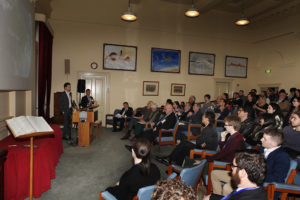 The Royal Society of Victoria offers a rich program of events concerned with science in Victoria and its place in our society. Our "ordinary meetings" represent our core lecture program, generally provided on the second and fourth Thursday of the month. The lectures are low cost and open to the public, free to our members. Evening lectures generally start at 7:00pm; the venue is the Society's Ellery Theatre, upstairs at 8 La Trobe Street, Melbourne. We also convene ad-hoc events, forums and conferences each month with our partners, and occasionally host events at other locations around the state.
For a small cost, members and guests are invited to socialise and network over food and drink ahead of our lectures; tickets for both lectures and social components are available from each event's page. The listings below provide details of all currently programmed events.
Statewide events convened under the Inspiring Victoria program, including National Science Week events, are generally listed on the related website maintained by the Society: inspiringvictoria.org.au .
**Please note that all events are being convened online during 2020 to accommodate COVID-19 conditions in Victoria. You can join RSV live streams and access earlier events from our video page.
Upcoming Events:
Date/Time
Event
Saturday 13 August, 2022
10:00 AM - 3:00 PM
Studley Park - Go Bush in Inner Melbourne!


Explore 420 million years of Melbourne's geological and hydrological history with Geography Victoria and the Royal Society of Victoria.

Thursday 18 August, 2022
6:00 PM - 9:00 PM
Young Scientist Research Prizes Competition: Presentations, Judging and Prize Ceremony


Discover the work of eight Victorian early career researchers across four categories of science, and support our high achievers!

Sunday 21 August, 2022
3:00 PM - 4:30 PM
STEM & Society: Caring for the Rare


Victoria's Zoos, Museums and Botanic Gardens are more than interesting places for people to visit - they are also engines of cutting-edge research and field work. Join us at the Parliament of Victoria to hear from our state's botanists, zoologists and collection managers caring for the rare in the face of mounting challenges.

Friday 16 September, 2022
8:30 AM - 3:30 PM
Next-Generation Biocontrol of Invasive Vertebrate Pests


A one-day symposium, addressing the impact of invasive vertebrate species across Australia through application of new and emerging biological control strategies.