Upcoming Events
Talks, Tours, Lectures, Conferences & Symposia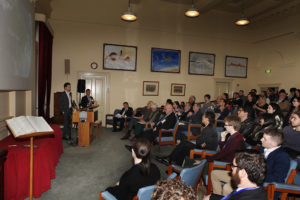 The Royal Society of Victoria offers a rich program of events concerned with science in Victoria and its place in our society. Our "ordinary meetings" represent our core lecture program, generally provided on the second and fourth Thursday of the month. The lectures are low cost and open to the public, free to our members. Evening lectures generally start at 7:00pm; the venue is the Society's Ellery Theatre, upstairs at 8 La Trobe Street, Melbourne. We also convene ad-hoc events, forums and conferences each month with our partners, and occasionally host events at other locations around the state.
For a small cost, members and guests are invited to socialise and network over food and drink ahead of our lectures; tickets for both lectures and social components are available from each event's page. The listings below provide details of all currently programmed events.
Statewide events convened under the Inspiring Victoria program, including National Science Week events, are generally listed on the related website maintained by the Society: inspiringvictoria.org.au .
**Please note many of our events are now presented in a hybrid format, with options for both in-person and webinar attendance. You can access our archive of events filmed earlier from our video page.
Upcoming Events:
Date/Time
Event
Saturday 10 June, 2023
10:00 AM - 3:00 PM
Explore Melbourne's Dynamic Coastline


Examine Port Phillip's historical changes, the geological landscapes that shape our foreshores and bays, the impacts of climate change and more on this field trip with Geography Victoria.

Thursday 22 June, 2023
6:00 PM - 7:15 PM
Glaciers and Ice Sheets in a Warming World


Professor Andrew Mackintosh
Head, School of Earth, Atmosphere and Environment, Monash University
ARC Chief Investigator, 'Securing Antarctica's Environmental Future'

Friday 7 July, 2023
6:00 PM - 7:15 PM
Reinventing the Chemical Industry with Green Chemistry


Dr Paul T. Anastas
Director, Center for Green Chemistry and Green Engineering, Yale University
Dr John Warner
Distinguished Professor of Green Chemistry, Monash University

Thursday 13 July, 2023
6:00 PM - 7:15 PM
Decolonising Fire Science


Dr Philip Zylstra
Adjunct Associate Professor, School of Molecular and Life Sciences, Curtin University
Research Associate, The University of New South Wales

Sunday 23 July, 2023
3:00 PM - 5:30 PM
The Lost City of Melbourne


Featuring rare archival film & photography, this film is a revelatory work that allows its audience to reimagine the former glory of the lost City of Melbourne. Join Geography Victoria for a convivial outing to the Thornbury Picture House!

Thursday 17 August, 2023
6:00 PM - 9:00 PM
Young Scientist Research Prizes Competition: Presentations, Judging and Prize Ceremony


Discover the work of eight Victorian early career researchers across four categories of science, and support our high achievers!