Upcoming Events
Talks, Tours, Lectures, Conferences & Symposia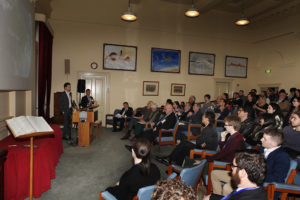 The Royal Society of Victoria offers a rich program of events concerned with science in Victoria and its place in our society. Our "ordinary meetings" represent our core lecture program, generally provided on the second and fourth Thursday of the month. The lectures are low cost and open to the public, free to our members. Evening lectures generally start at 7:00pm; the venue is the Society's Ellery Theatre, upstairs at 8 La Trobe Street, Melbourne. We also convene ad-hoc events, forums and conferences each month with our partners, and occasionally host events at other locations around the state.
For a small cost, members and guests are invited to socialise and network over food and drink ahead of our lectures; tickets for both lectures and social components are available from each event's page. The listings below provide details of all currently programmed events.
Statewide events convened under the Inspiring Victoria program are generally listed on the related website maintained by the Society: inspiringvictoria.org.au
Upcoming Lectures:
Date/Time
Event
Wednesday 19 August, 2020
6:30 PM - 9:30 PM
Young Scientist Research Prizes Competition: Presentations, Judging and Prize Ceremony


Earth Sciences:
Mr Hayden Dalton, School of Earth Sciences, The University of Melbourne
Ms Megan Withers, School of Earth, Atmosphere & Environment, Monash University

Biological (non-human) Sciences:
Ms Charlene Trestrail, School of Science, RMIT University
Mr Martin Estermann, Department of Anatomy & Developmental Biology, Monash University

Physical Sciences:
Mr Majid Laleh, School of Engineering, Deakin University
Ms Adele Goodwin, School of Physics & Astronomy, Monash University

Biomedical & Health Sciences:
Mr Roshan Selvaratnam
Ms Lakshanie Wickramasinghe
Upcoming Collaborative Events:
The Royal Society of Victoria provides a platform to partners and friends to present opportunities for collaboration in the research sector, the science education and promotion network, the science communication and writing community, or to promote participation, diversity and inclusiveness in the sciences.
Date/Time
Event
Monday 17 August, 2020
10:30 AM - 11:30 AM
Forensic Science: Fact vs Fiction


We all cheer when the forensic scientist cracks the television murder case but how does the screen science stack up against the real thing? Join Virginia Trioli, presenter on Mornings for ABC Radio Melbourne along with forensic specialists Dr Richard Bassed and Professor David Ranson, as they put fictional forensics under the microscope.
Upcoming Field Trips & Tours:
RSV members visit facilities and locations concerned with the application of science in research and industry, including sites of ecological, historical and geological significance throughout regional and metropolitan Victoria.
No Events
Upcoming Training & Workshops:
The Royal Society hosts or collaborates to present training programs on a range of topics related to communicating or supporting scientific endeavour and scientific literacy.
No Events
Upcoming Members' Only Events:
Members convene to refine the Society's strategic focus, discuss issues and concepts in science, or to seek opportunities to develop and explore the science world.
No Events
Upcoming Conferences & Symposia:
The Royal Society hosts or collaborates to present conferences and symposia on a range of topics across the disciplines, and also on cultural themes concerned with science; current details are available below.
No Events