Upcoming Events
Talks, Tours, Lectures, Conferences & Symposia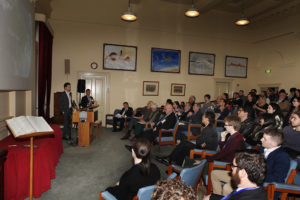 The Royal Society of Victoria offers a rich program of events concerned with science in Victoria and its place in our society. Our "ordinary meetings" represent our core lecture program, generally provided on the second and fourth Thursday of the month. The lectures are low cost and open to the public, free to our members. Evening lectures generally start at 7:00pm; the venue is the Society's Ellery Theatre, upstairs at 8 La Trobe Street, Melbourne. We also convene ad-hoc events, forums and conferences each month with our partners, and occasionally host events at other locations around the state.
For a small cost, members and guests are invited to socialise and network over food and drink ahead of our lectures; tickets for both lectures and social components are available from each event's page. The listings below provide details of all currently programmed events.
Statewide events convened under the Inspiring Victoria program are generally listed on the related website maintained by the Society: inspiringvictoria.org.au
Upcoming Lectures:
Date/Time
Event
Thursday 23 July, 2020
7:00 PM - 8:15 PM
Climate Change: Managing the Unavoidable, Avoiding the Unmanageable


Professor David Karoly
Leader, Earth Systems and Climate Change Hub, CSIRO National Environmental Science Program

Wednesday 19 August, 2020
6:30 PM - 9:30 PM
Young Scientist Research Prizes Competition: Presentations, Judging and Prize Ceremony


To foster and recognise excellence in Victoria's early career scientists, the Royal Society of Victoria has established four prestigious competitive prizes open to Victorian students in their final year of doctoral candidature, in all areas of the Biomedical & Health Sciences, Biological Sciences (Non-human), Earth Sciences and Physical Sciences.

Following assessment of applications across the four categories, we will select eight PhD finalists to present their work to us during National Science Week. Join us to hear about the latest science from our emerging scientists, and to support and celebrate the achievements of Victoria's upcoming high achievers.

Thursday 20 August, 2020
7:00 PM - 8:15 PM
The Navigators of the Burke and Wills Expedition


Frank Leahy MRSV
Lecturer in Surveying and Geodesy (retired), Burke & Wills Historian
Upcoming Collaborative Events:
The Royal Society of Victoria provides a platform to partners and friends to present opportunities for collaboration in the research sector, the science education and promotion network, the science communication and writing community, or to promote participation, diversity and inclusiveness in the sciences.
No Events
Upcoming Field Trips & Tours:
RSV members visit facilities and locations concerned with the application of science in research and industry, including sites of ecological, historical and geological significance throughout regional and metropolitan Victoria.
No Events
Upcoming Training & Workshops:
The Royal Society hosts or collaborates to present training programs on a range of topics related to communicating or supporting scientific endeavour and scientific literacy.
No Events
Upcoming Members' Only Events:
Members convene to refine the Society's strategic focus, discuss issues and concepts in science, or to seek opportunities to develop and explore the science world.
Date/Time
Event
Thursday 16 July, 2020
3:00 PM - 5:00 PM
RSV Book Club: Where the Crawdads Sing


Dr Delia Owens novel explores how isolated individuals behave differently from normal and how much we change when rejected by others. On their own and excluded, humans often revert to behaviours that resemble those of early humans, who survived aeons ago on the savannas, or of wild creatures who still live "way out yonder where the crawdads sing."
Upcoming Conferences & Symposia:
The Royal Society hosts or collaborates to present conferences and symposia on a range of topics across the disciplines, and also on cultural themes concerned with science; current details are available below.
No Events