Congratulations to Professor Jenny Graves AO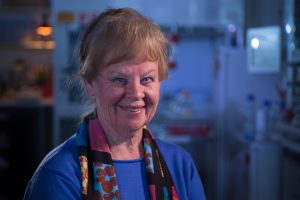 Please join us in offering warmest congratulations to longstanding RSV member Professor Jenny Graves AO, recipient of the 2017 Prime Minister's Prize for Science for her work transforming our understanding of how vertebrate animals, including humans, evolved and function.
Over the span of her career, Jenny has kick-started genomic and epigenetic research in Australia, and predicted the disappearance of the male chromosome.
Jenny's research has used Australia's marsupials, monotremes, birds and lizards to understand the complexity of the human genome and to reveal new human genes. Australia's pouched and egg-laying mammals, such as wallabies and platypus, are a fantastic source of genetic variation because they last shared a common ancestor with placental mammals so long ago.
Jenny has transformed our understanding of how sex chromosomes work and how they evolved, determining that the human XY sex chromosome system only evolved recently. Members and friends of the RSV may recall her charmingly engaging 2015 lecture titled 'Weird Sex and Animals," where she explored the origin of the Y chromosome and sex determining gene in mammals, with her research suggesting that as we evolve the Y chromosome may completely disappear in the future. She also demonstrated the genetic mechanism that switched could switch of an X chromosome in mammals, now known to be a key mechanism is general gene regulation.
The Prize is a wonderful acknowledgement of a remarkable, accomplished Australian scientist and we take this opportunity to express our great pride in her accomplishments.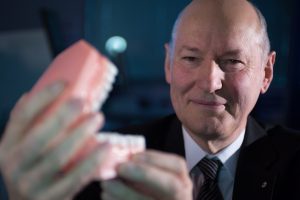 Congratulations are also due to fellow Victorian Professor Eric Reynolds AO, who discovered, developed and commercialised a protein from dairy milk that repairs and strengthens our teeth – a journey that began 30 years ago!
Today, that protein, sold as Recaldent, is used by millions of people every day as they chew gum and visit the dentist. Products using Recaldent have generated sales of over $2 billion and it has been estimated they've saved over $12 billion in dental treatment costs worldwide.
Eric now leads the University of Melbourne's Dental School and travels the world, working with Australian and international businesses to create new products to further improve oral health. He continues to research and innovate for improvement to the oral health of millions across the globe. We are delighted to see such an appropriate acknowledgement of Professor Reynolds' accomplishments with the 2017 Prime Minister's Prize for Innovation.
Our congratulations extend to all Australian scientists, innovators and teachers recognised for their impactful work in this year's suite of prizes. You can read about all the prize recipients online at Australia's Science Channel.