Science Says! 2018

Science Says! is science as you've never seen it before, and with a lot more laughter! Join us as brilliant scientists, gifted comedians and talented communicators use their wits and wittiness to uncover the top scientific discoveries of 2018 – and a few of the odder ones, too!
It's an evening in the style of the great panel shows – think mixing Mock the Week, Spicks and Specks, and just a dash of QI. Last years' shows saw physicists miming sticky saliva, professors donning hard hats, and biologists serenading the audience – all in the name science!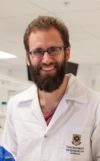 Hosted by Dr Joel Gilmore – scientist, comedian and co-host of Food Lab on SBS – you'll be guaranteed a night of entertainment, competition and comedy – and education, too! So secure your tickets early and join us in November to find out what Science Says!
Competing in Melbourne for all the glory science has to offer is: public health nerd, comedian and beekeeper, Alanta Colley; astronomer and Lead Scientist of RiAus, Prof Alan Duffy; science communicator, radio producer and field guide enthusiast, Claire Farrugia; brain doctor and armchair philosopher, Dr Anna He; science educator, boardgame designer and comedian, Tom Lang; and ABC science reporter and proud owner of 261 Neanderthal variants, Belinda Smith.