Julian Burnside and Author James Dryburgh in Conversation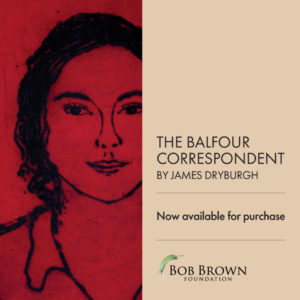 You are warmly invited to a conversation with Julian Burnside QC and author of The Balfour Correspondent, James Dryburgh.
The Balfour Correspondent is a compelling reader's response to a young girls' letters written to a Tasmanian Newspaper over 100 years ago.
During 1912, fourteen-year old girl, Sylvia McArthur, writes to a weekly Tasmanian newspaper from Tasmania's wilds. Her letters from the doomed bush town of Balfour, in the lands we now think of as the Tarkine, have been forgotten for a century. James Dryburgh answers her letters, creating a strangely powerful dialogue across time and space and giving us a powerful sense of the forces that still do battle to shape our existence in this country, and on this Earth.
Tickets: Available via the Eltham Book Store, 970 Main Rd, Eltham. Ph: (03) 9439 8700. You can also RSVP at https://www.bobbrown.org.au/balfour_correspondent_book_launch
Price: $55 per person or $35 concession, (includes one signed copy of the book, the author's presentation and afternoon tea).
Children welcome. Enquiries to Emma Wasson at [email protected] please.
Presented by the Bob Brown Foundation with the support of the Royal Society of Victoria.