"Earthrise" – Looking Back on our Planet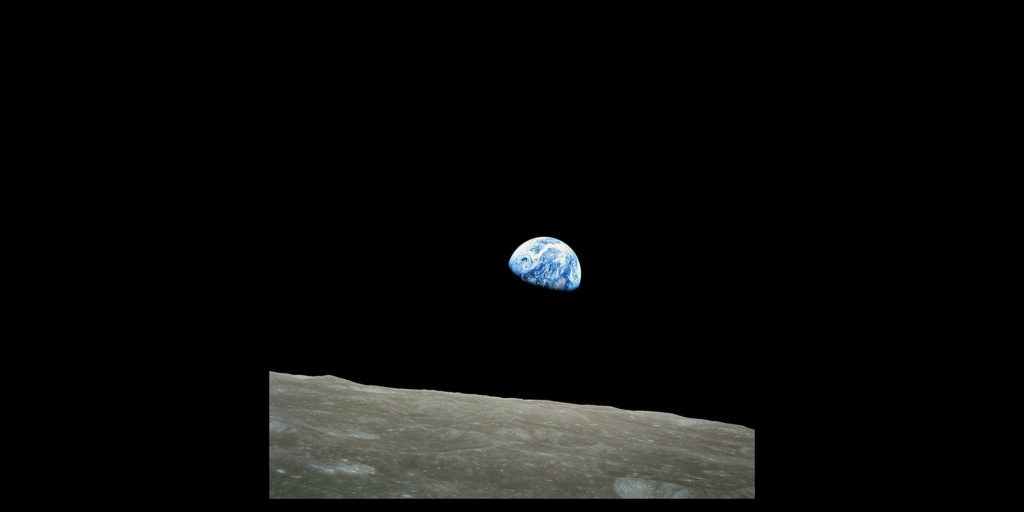 Presentations & Interdisciplinary Panel Discussion
What's in a picture?
Almost 50 years ago on Christmas Eve, 1968, US astronaut William Anders took a photo aboard the Apollo 8 mission that became known as 'Earthrise.' This ground-breaking image transformed our view of our unique planet, and the place of our home in the cosmos.
Apollo 8 was the first manned spacecraft to leave the Earth's orbit and circle the Moon. When the craft piloted by William Anders and his fellow crewmen Frank Borman and Jim Lovell emerged from behind the Moon's far side, they saw in front of them an astounding sight – an exquisite blue sphere hanging in the blackness of space.
Taking this photograph was one of the most profound events in the history of human culture, for at this moment we truly saw ourselves from a distance for the first time; and the Earth in its surrounding, dark emptiness not only seemed infinitely beautiful, but also extraordinarily fragile. This wonderful image crystallised and cemented the sense of our planet's isolation and vulnerability. It is linked to the start of the environmental movement and to many significant concepts developed and popularised over the last 50 years such as Spaceship Earth, Limits to Growth, Small is Beautiful, Sustainability and Gaia. It is a significant signpost for our ongoing struggle to safeguard the vitality and viability of our living planet.

Come join an interdisciplinary panel to reflect on "Earthrise" and the progress – or otherwise – we have made as an Earth-bound species in the intervening half century. Joining us will be:
Dr Colleen Boyle, Artist and Art Historian with RMIT's School of Design
Colleen is an artist and academic working out of Melbourne, Australia. Her current research interests include: theories of perception and representation; history and theory of photography; space exploration and space imaging; philosophical interpretations of imagination; scientific imaging and theories of scientific observation. In 1977 her grandfather took her to see a matinee screening of the film Star Wars. The windows of the Yea town hall had been darkened with previously used black plastic that was ridden with tiny holes. The result was a galaxy of shining stars, and the film hadn't even started. Thus began Colleen's life-long fascination with all things to do with outer space!
Dr Jenny Gray, CEO of Zoos Victoria and the President of the World Association of Zoos and Aquariums
Jenny is a trained Civil Engineer with experience in Transportation Engineering and banking, but it was a lifelong love of animals, and a longing to do something that made a difference which brought her to the zoo industry. Jenny's work as CEO of Zoos Victoria has significantly changed the organisation's direction to engage people in saving wildlife and wild places. Her Melbourne PhD examined the ethical challenges posed for the operations of zoos and aquariums in the 21st century and her thesis informed her 2017 book, Zoo Ethics.
Professor Rachel Webster, Head of Astrophysics at the University of Melbourne's School of Physics
Rachel leads the Astrophysics research group at the University of Melbourne, comprising more than 60 research students and staff. The observational program utlises world class equipment such as the Australia Telescope Compact Array, the Gemini Telescopes, the Hubble Space Telescope and the Chandra X-ray Observatory, among others. Her research interests include the detection of the first sources in the universe, quasar emission regions, gravitational lensing and cosmology, with a side interest in the physics of geothermal energy.
Dr Lynette Bettio, Senior Climatologist with the Bureau of Meteorology
Lynette examines and communicates on long-term changes to Australia's climate including trends in rainfall and temperature and the interaction with extreme events.  Another focus is drought across Australia and how the Bureau can best communicate and inform around this. She is a member of the World Meteorological Organization expert team on drought. As a climatologist, her work draws on data from the satellite system that monitors the changes in our planet's climate.
Alicia Sometimes, broadcaster, poet and writer, will be piloting the craft as our MC! Alicia is a regular guest on 774, Radio National and is one sixth of The Outer Sanctum Podcast. Alicia was editor of the national literary journal Going Down Swinging for seven years. Alicia was one of the 3RRR's Breakfasters team in 2015 and on Aural Text for fourteen years. She has appeared in ABC TV's Sunday Arts and ABC News Breakfast. Her poems have been in Best Australian Poems, Overland, Southerly, Westerly, The Age and more.