Let's Torque Grand Final: Presentations, Judging and Prize Ceremony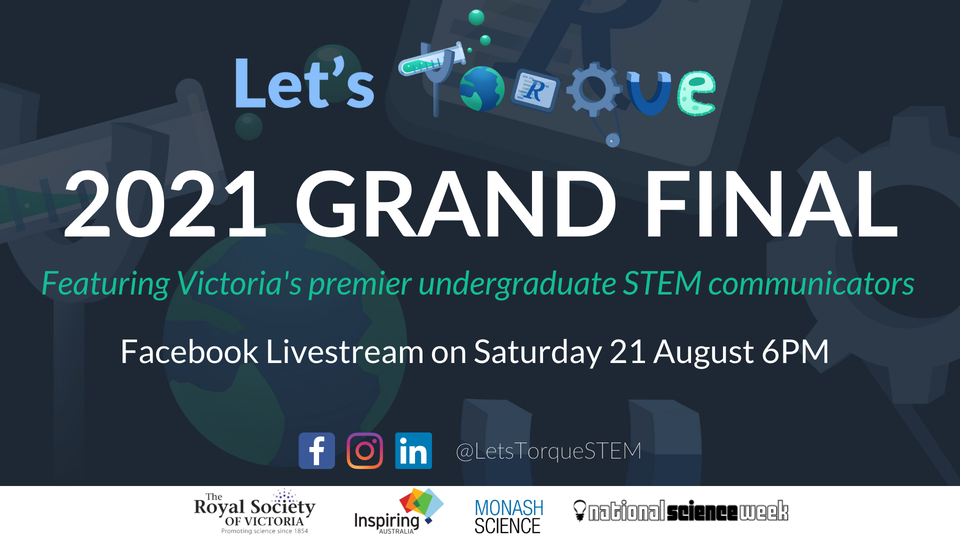 Join us for an evening of fascinating presentations by the next generation of STEM communicators!
The 2021 Let's Torque Grand Final will feature presentations by:
Georgina Aiuto – "Take a Second for the Future"
Joshua Nicholls – "Bionics: Seeing into the Future"
Luke Antzoulatos – "Nano-Terminators"
Sanjeeban Chattopadhyay – "Permeable Pavements: A Key Design for a Water-sensitive Future"
Our esteemed judges will be Catriona Nguyen-Robertson, Dr Leonie Walsh FTSE, and Dr Shane Huntington OAM.
In light of enduring COVID-19 restrictions, this year's competition will be conducted online, with presentations filmed and finalists answering questions from our judges in a Zoom webinar and our audience members via via Facebook Live. Hear about some of the most promising future STEM solutions, all while in the comfort of your own home as it'll be livestreamed right to your device!
Those with a Facebook account can register their attendance at https://www.facebook.com/events/1197347610748965/ .