Let's Torque 2020 Grand Final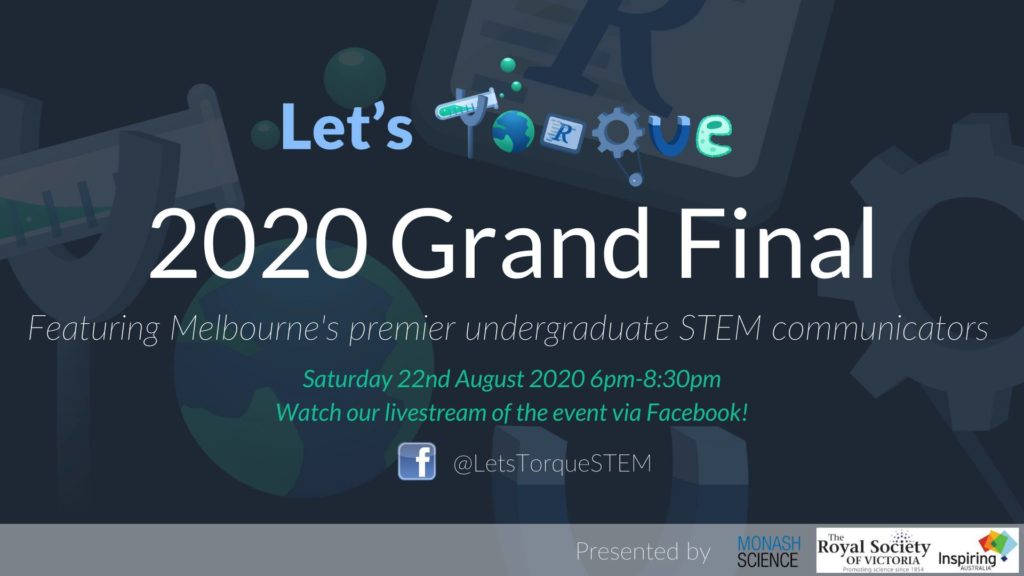 Join us for the Let's Torque Grand Final! Featuring this year's finest undergraduate science communicators, who have honed their presentations to provide us with short, sharp, engaging tales from the bleeding edge of human knowledge. Our presenters will compete for First Prize, Second Prize and the People's Choice prize on the big night.
To accommodate COVID-19 restrictions, Grand Finalists will have their presentations pre-recorded, then live streamed on Facebook with an interactive Q&A from our panel of esteemed science communicators, including Dr Jen Martin, Professor Alan Duffy and Ms Alanta Colley. The keynote presentation will be from Mr Rob Gell AM MRSV.
Tune in to hear some of the most fascinating topics from the next generation of science communicators to support and celebrate our outstanding finalists from across Victoria. The live stream link will be available at https://www.facebook.com/royalsocietyvictoria/live/ or (if coded successfully) at our video page.
About the Keynote Speaker: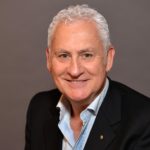 Mr Rob Gell AM MRSV
Rob is a geographer and specifically a coastal geomorphologist, specialising in the environmental processes that continually shape our coastlines. As such, he has an expert understanding of the Victorian coastline and its formation, working as an environmental and communications consultant, with membership of many Victorian councils and committees concerned with the management and conservation of our state's unique landscapes and the flora and fauna they support. He was a councillor of the Australian Conservation Foundation for almost a decade. Rob became a director of Greening Australia Victoria in 1997, was President from 2000 until 2008 and concluded three years as national President in 2011.
Rob is currently the Chair of the Future Focus Committee at the Royal Society of Victoria. He is a Fellow of the Royal Geographical Society and an Inaugural Fellow of the Environment Institute of Australia and New Zealand.
In 1979 Rob's "Four Day Forecast" revolutionised the way television weather information was presented. For thirty-one years he brought innovation, information, scientific credibility and authority to television news, introducing satellite image sequences, integrated pressure analyses and explanation and accountability rather than simply a presentation of Weather Bureau forecasts by a personality. He presented on Eyewitness News from 1979, then National Nine News for sixteen years from 1988 and then with the Seven Network until 2009.
About the Panellists:
Dr Jenny Martin
Senior Lecturer in Science Communication, School of Biosciences, The University of Melbourne
Jen is a former field ecologist who founded and now leads the University of Melbourne's award-winning Science Communication Teaching Program. She talks about science every week on 3RRR and was named the 2019 Unsung Hero of Australian Science Communication.
Professor Alan Duffy
Astronomer, Swinburne University and Lead Scientist, The Royal Institution of Australia
Alan is a Swinburne astronomer working on dark matter, galaxy formation and cosmology. As Lead Scientist of the Royal Institution of Australia, he regularly communicates science on TV, radio and print as well as public events nationwide.
Alanta Colley
Comedian, Science Communicator and Health Promotion Professional at the City of Darebin
Alanta is a comedian and science communicator with a Masters in International Public Health. She has toured nationally with her science comedy debate series 'Sci Fight,' and was a recipient of the 'Inspiring Australia' Science Arts Grant in 2019.