Next-Generation Biocontrol of Invasive Vertebrate Pests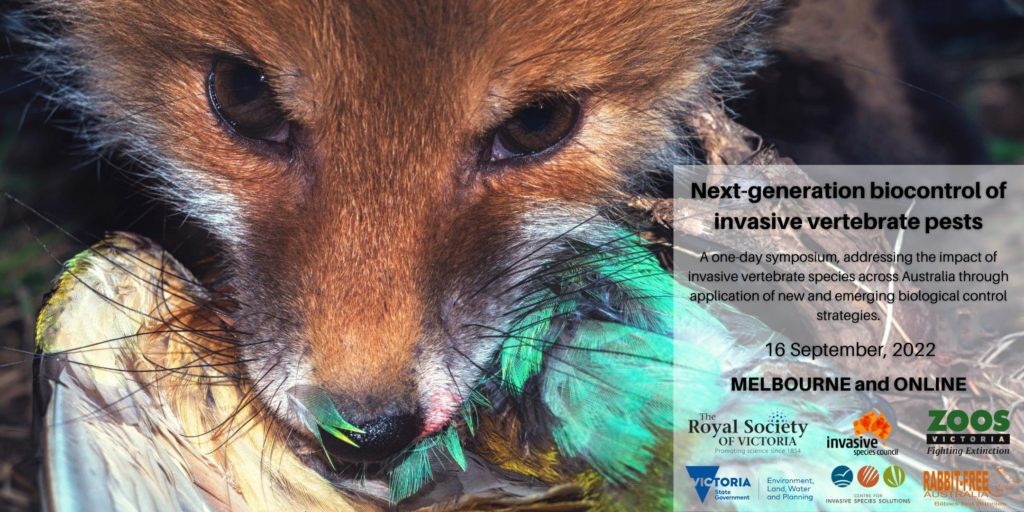 A one-day symposium to canvass the impact of invasive vertebrate species on ecosystems and agricultural activities throughout Australia, explore new and emerging biological control strategies for invasive vertebrates, and consider the ethical, social, technological, and decision-making challenges posed by these technologies for governments, industries and land managers.
Who should attend?
We welcome all audiences, including researchers, land managers, First Peoples, government policy leads, industry groups, conservation groups and any other parties with a stake in the challenges posed by invasive vertebrate species and an interest in emerging research that can offer new and effective tools for biocontrol in the years to come.
Benefits of participation
The symposium presents an opportunity to share insights and access expertise in identifying and responding to some of the most pressing challenges facing the Australian continent's ecological health from the impacts of invasive vertebrate species.
Featured topics:
Session 1: The Problem
The broad-scale ecological impacts of invasive species
The economic costs of invasive vertebrate species management
The agricultural impacts of invasive species in Australia
Indigenous land management and the impacts of invasive vertebrate species on Country
Priorities for management of invasive species from a threatened species perspective
Session 2 : The Technologies
Rodent genetic biocontrol
Gene drives for foxes, rabbits, pigs etc
Genetic biocontrol of invasive fish species
Herpesvirus biocontrol for the management of carp
Immuno-contraceptives for feral cat management
Viral biological control strategies for rabbit population control

Session 3: The Caveats
Attitudes in New Zealand towards gene editing for invasive species management
The problems and perils of biotechnology
Social challenges of invasive vertebrate management
First Nations perspectives on invasive species management
Animal welfare considerations for new invasive species management tools
Modelling genetic biocontrol
Tickets are available below to either attend in person (first window) or participate in the webinar via Zoom and/or Eventbrite (second window). RSV Members are prompted to enter their "promo code" to access a member's ticket.
---
Attending in Person:
---
Attending via Zoom Webinar:
Date/Time
Date(s) - Friday 16 September, 2022
8:30 AM - 3:30 PM
Location
The Royal Society of Victoria