Foodprint Melbourne: Building the Resilience of Melbourne's Food System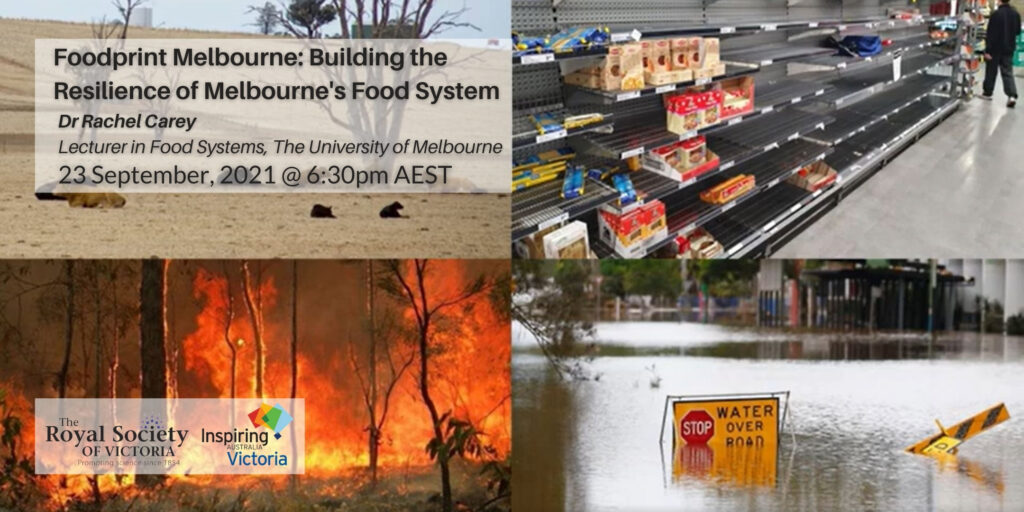 We tend to think of Melbourne and other cities in Australia as places that are food secure; nationally, we produce enough food to support 60,000,000 people, more than twice our population, in service of our role as a major exporter of primary goods and food products. Supermarket shelves are usually filled with food, all year around. But in the last 18 months we've seen images of sparsely-occupied shelves, crops being dug back into their fields and students queueing for food vouchers. The compounding crises of bushfire and pandemic have revealed some of the cracks in our food supply system, flaws that make our population vulnerable to scarcity.
Join Dr Rachel Carey, who will be exploring what we need to do to strengthen the resilience of Melbourne's food system to future shocks and stresses, particularly those related to climate change and pandemic, seeking a more nuanced conversation about matching up available resources with the healthy, sustainable diets we want our population to be maintaining.
We can leverage the lessons from the pandemic to transform the way we manage our food system, through strengthening local and regional food supply chains; sustaining the productivity of fertile land on the urban fringe; building efficient, circular food economies to minimise waste; promoting resilient, sustainable production systems adapted to a changing climate, such as regenerative or agri-ecological approaches; building livelihoods through addressing insecure employment, low wages and poor working conditions in the food industry; and redesigning systems of food relief to ensure equitable, dignified access to healthy, sustainable, culturally-appropriate food during times of system stress.
About the Speaker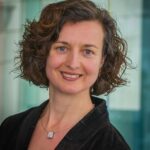 Dr Rachel Carey is a Lecturer in Food Systems at the University of Melbourne's Faculty of Veterinary and Agricultural Sciences, where her teaching and research focuses particularly on the governance of resilient and sustainable food systems.
Rachel leads the Foodprint Melbourne project, which is investigating the resilience of Melbourne's food system to shocks and stresses and the role of Melbourne's foodbowl in increasing the resilience of the city's food supply. The project team is working with a wide range of stakeholders to plan interventions to increase the resilience and sustainability of the city's food system. Project partners include the City of Melbourne, Resilient Melbourne, Port Phillip and Westernport Catchment Management Authority, the Interface Councils and the Peri-Urban Group of Rural Councils. The project is funded by the Lord Mayor's Charitable Foundation.
One of Rachel's key research interests is the resilience and sustainability of city food systems in the face of growing challenges from climate change, pandemic, population growth, urban sprawl and from declining supplies of natural resources, such as land, water and fossil fuels. Rachel's research has also focused on analysis and development of food policies and the governance of 'free range' and other higher animal welfare labelling. She has a particular interest in integrated food policies and in cross-sector and collaborative approaches to developing food policy.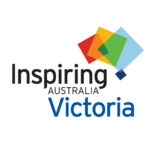 Rachel has worked on food policies for the City of Melbourne and the City of Greater Geelong, and she is a member of the Melbourne Food Alliance. Rachel is a member of the Editorial Board of the journal Agriculture and Human Values. She has a PhD from the University of Manchester (UK) and a Masters degree in Food Policy from City University (UK).
Tickets are available below to participate in the webinar via Zoom and/or Eventbrite. RSV Members are prompted to enter their promotional code to access a member's ticket. Alternatively, you can watch along via Facebook Live at the appointed time without buying a ticket.