Brewing Futures
Join us from the comfort of your living room as Jon Seltin, Head Brewer from Brick Lane Brewing Co., winds the clock forward on beer brewing. How will climate change and advances in sensory science affect beer production? How might our beer tastes change in the future?
On this behind the scenes brewery tour, bring your curiosity and engage your palate to discover emerging brewing technologies and trends while sampling some great brews and important brewing raw ingredients. But be on the lookout, not everything you taste will be as it seems!
This is an online event only. Ticket holders have been forwarded a Brewing Futures tasting kit prior to the event for consumption during the event – follow along at the Royal Society of Victoria's live stream page at https://www.facebook.com/royalsocietyvictoria/live/ .
A part of the Possible Impossibles series for the 2020 National Science Week program.

About our Host: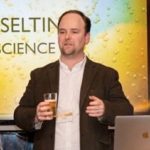 Jon Setin is Head Brewer at Brick Lane Brewing, an independent brewery in Melbourne producing beers and ciders.
Passionate about the science involved with making great beer, Jon runs engaging workshops about this topic. He has even presented beer workshops at Parliament House Melbourne for public audiences! Prior to Brick Lane, Jon was Head Brewer at Hawkers Beer and Bright Brewery.
Jon is also Chair of BIRA (Brewing Interlaboratory Reference Analytes), an industry led proficiency testing scheme for organisations performing beer analysis.