by Catriona Nguyen-Robertson
RSV Science Communications Officer

The STEM and Society series of online presentations explores the science and stories behind the game-changing work undertaken by Victoria's scientific community. Leading experts spoke about the work they are doing to engage the community and bring about meaningful change in their field of study and in our everyday lives. This series was presented by the Victorian Parliament, in partnership with the Royal Society of Victoria, the Victorian Parliamentarians for STEM and supported by Inspiring Victoria.
 This article follows a panel discussion on 12th May 2021 with Dr Rebecca McIntosh and Ross Holmberg from Phillip Island Nature Parks.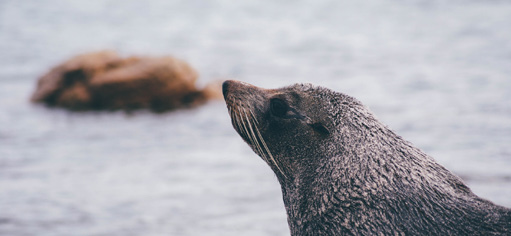 Can you spot a seal? Books like I Spy and Where's Wally are quite nostalgic. While not quite a picture book, SealSpotter is a citizen science project run by Phillip Island Nature Parks. Marine scientists call on everyone to search for seals in photos to monitor and protect the seal population at Seal Rocks.
Citizen scientists from every continent participate in the annual SealSpotter Challenge. Footage of drones flying over Seal Rocks is shared for people to count the number of pups. This count enables scientists like Dr Rebecca McIntosh and Ross Holmberg to analyse seal population data faster and more accurately so that they can see how the population is fairing over time.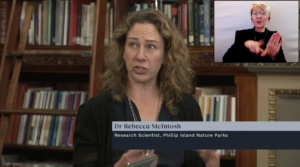 Seals were harvested heavily in south-eastern Australia in the 1800's, reducing thriving colonies of five seal species to a single species. The Australian fur seal is thought to have survived because they bred in caves, hidden from hunters. Since seals in Australian waters became officially protected in 1975, the population has somewhat bounced back, but in the last decade, pup numbers have been declining again.
Because seals sit at the top of the food chain, they are vulnerable to ecosystem changes. As water temperatures rise, the location and abundance of fish populations, their main food source, also change. But also because of this, they constantly sample the ocean and bring valuable information back to land as part of their diet. Monitoring seals' diet, abundance and population trends can inform us of the entire ecosystem's health.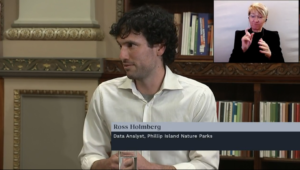 However, while out and about in the ocean, seals can become entangled in marine pollutants such as present ribbon, fishing nets and plastic bags. Seals play with plastic debris, and if they get stuck, the plastic cuts into them. This is particularly bad for young seals who keep growing and the plastic cuts into them more and more.  Rebecca and members of her team release entangled seals that they can find, but they unfortunately cannot catch them all – not even half of those they see. Ironically, it can be unsafe for the team to approach an entangled seal if other seals are around and there is potential for a stampede.
To reduce net debris from commercial fishing boats, the team produced bins that sit on boats to catch all the waste. They worked in partnership with scientists from RMIT and fishing boats to ensure that the bins were best suited for maximum debris recovery and ease of use. You can also play a role in protecting seals from entanglement by minimising waste: plastic bags, disposable keep cups and gift ribbon – anything that can form a ring or trap.
Phillip Island Nature Parks also calls on you to be SealSpotter. As part of the program, drones fly over Seal Rocks to collect footage that is converted to images that are assessed by you – citizen scientists. You can help by counting the number of seals in each picture and identifying entangled seals.
The results collected from hundreds of people around the world have so far provided reproducible, reliable data and trends. In the beginning, Rebecca and Ross had to problem solve and troubleshoot; for example, they found the best way of stitching all the overlapping images together so that seals wouldn't be counted more than once and the best height to fly drones so that they would be close enough without disturbing seals or sea birds. After testing out SealSpotter on a small audience and ironing out the kinks, it was good to go and has been up and running for the past several years.
The team specifically assesses the pups as an index sample of the entire seal population as they all remain on the rocks at one time. It is difficult to accurately count adults as there will always be some in the water foraging. The scat of pups contains information about their diet: the variation of fish and squid they consume from year to year based on mean sea surface temperature changes. It also has revealed exposure to chemical pollutants such as PFAS. The group of fire-resistant chemicals, PFAS, have been widely used by multiple industries and are now ubiquitous and persistent in the environment. They act as carcinogens and/or endocrine disruptors (impacting the delicate balance of sex hormones vital for reproduction), thereby influencing the reproduction capacity of seals and their food source.
Around this time of year, all the seals are on hunt for food. Pups are starting to spend time in the water, learning to forage in preparation for their independence. Females are leaving the colony to find food for their young and are anticipating the next lot of pups due in December. Meanwhile, males are bulking up to be ready to fight for females in the coming breeding season.
It has taken a long time for seals to bounce back from when they were overhunted, and they have, yet new threats are emerging. Seal Rocks is home to an estimated 20,000 seals, one quarter of the entire Australian fur seal population. How many seals will you find as a SealSpotter?