The Invisible War: a Tale on Two Scales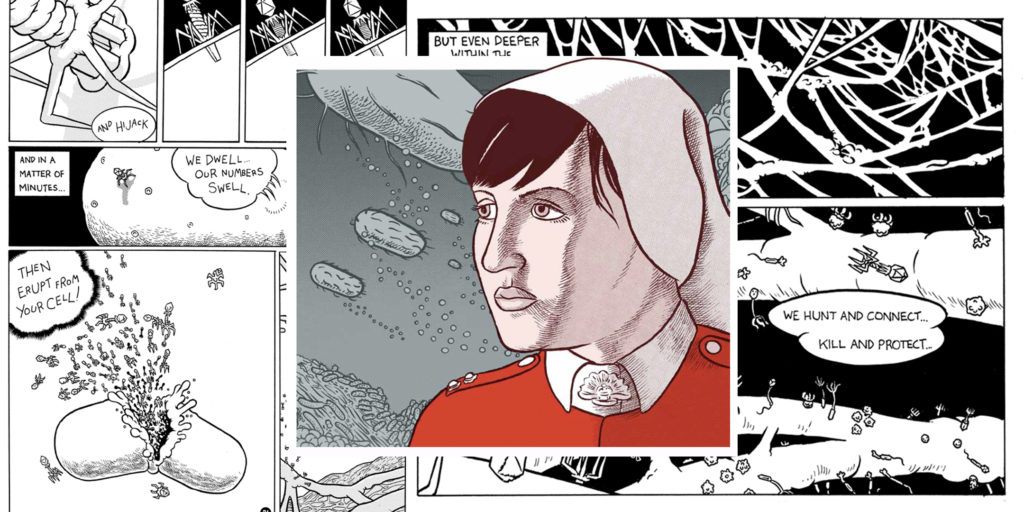 In a celebration of art, science and history, Melbourne micro-publishers Scale Free Network will be launching their new book The Invisible War with the Royal Society of Victoria on Saturday August 20th, 2016.
A collaboration between local and international writers, microbiologists, historians, artists and educators – this groundbreaking graphic novel combines stunning artwork and cutting-edge science to take readers on a unique journey into the secret symbiotic societies within the human microbiome. Written for students and adults alike, the story is set in 1916, partly around the muddy trenches of World War One, and partly in the mucus-lined trenches of a nurse's large intestine. It describes a vast, unseen world populated by bacteria and viruses, where microscopic battles between ancient enemies are waged on a daily basis…
Here's what people have been saying about The Invisible War:
"A candidate for the first truly modern, 21st century graphic novel", Dorion Sagan
"What a great way to learn some pretty extensive science", David Suzuki
"A touching, harrowing story…rivetingly interesting", The Canberra Times.
The afternoon will feature an exhibition of original artwork by Ben Hutchings (illustrator of The Invisible War), an interdisciplinary panel discussion led by The Science Show's Dr Robyn Williams, a science & history themed dress-up photo-booth, author book-signings, and excellent company over light refreshments and beverages.
A 2016 National Science Week event.