Our Changing Landscapes: Acting on Climate Impacts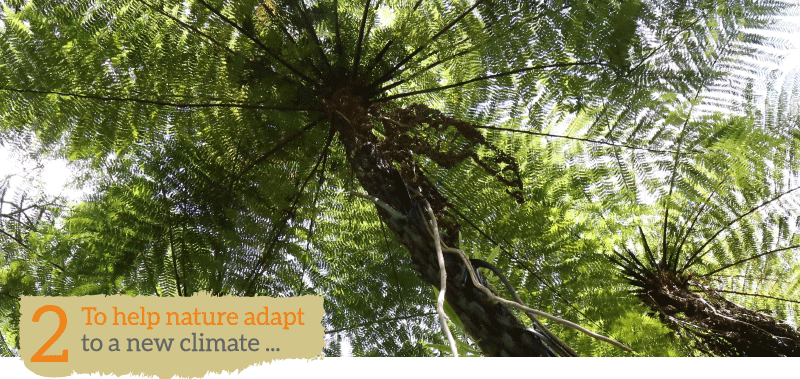 Hosted by the VicNature2050 partners: La Trobe University; Bio21 Institute/University of Melbourne; Arthur Rylah Institute/ Department of Environment, Land, Water and Planning; Victorian National Parks Association; the Royal Society of Victoria; Greening Australia. This symposium builds on the first VicNature 2050 symposium, Managing Victoria's Biodiversity under Climate Change, which was held at the University of Melbourne's Bio21 Institute in October 2015.
The outcome of the presentations and discussions from that event are summarised at www.vicnature2050.org as '10 things we all can do'.
What is this next symposium about?
This time we will look at what is perhaps the most contentious of the '10 things': how, when, where and indeed whether we should intervene in landscapes while they become transformed under the influence of changes in the climate.
More specifically, the day will look at possibilities and problems involved in increasing the genetic diversity of vulnerable species, or introducing new 'climate ready' species, especially in areas where increased landscape connectivity is needed.
The format of the day will be a series of short presentations, followed by facilitated discussions in which all attendees are invited to participate.
Who will be presenting?
We have assembled a range of experts to talk to the various problems and opportunities climate-affected ecosystems present.
They include:
Dr Ian Lunt, ecologist: Keeping regions distinctive
Department of Environment, Land, Water and Planning: Planning for change
Prof Michael Clarke, La Trobe University: Building knowledge – management experiments and 'learning by doing'.
Prof Paul Sunnucks, Monash University: Genetics and the capacity for existing species to adapt.
Dr Graeme Newell, Arthur Rylah Institute: The future for Ecological Vegetation Classes (EVCs).
Jarod Lyon, Arthur Rylah Institute: Case study – streamflow changes
Dan Jamieson, Parks Victoria: Case study- Alpine Ash
Prof Andrew Bennett, La Trobe University and Arthur Rylah Institute: Case study – woodland birds
Dr Jim Radford, Bush Heritage Australia: Passive and active management.
Elisa Rawlings, Greening Australia: Some practical ways to success.
Who will lead the discussions?
Similarly qualified people will lead the discussions, in which all participants are invited to take part. Facilitators include:
Fern Hames, Arthur Rylah Institute
Prof Ary Hoffmann, Bio 21 Institute, University of Melbourne
Prof Lynne Selwood, University of Melbourne and Royal Society of Victoria
Dr Peter Green, La Trobe University
Who should come?
The day will be useful to the scientific community, land management agencies, private land holders, Indigenous communities, conservation NGOs – indeed anyone involved or interested in the rehabilitation of our natural areas.
How to register
Registration for the day, including lunch and refreshments, costs $58 (or $48 for NGOs or concession holders). We strongly recommend you book a place as soon as possible, to avoid disappointment.
Register online now with Eventbrite.