Why is Australia the Food Allergy Capital of the World?
Professor Katie Allen
Director, Australian Centre of Food and Allergy Research
Murdoch Children's Research Institute, Royal Children's Hospital Melbourne
As humans we are obsessed with food. And why not? We need to eat food safely in order to survive; but many people now find food is not always their friend. For a small but growing proportion of the community, something as benign as eating a peanut could result in a tragic yet preventable death. Why is food allergy on the rise, and why does Australia appear to be the worst affected?
Professor Katie Allen has spent the last 10 years describing the burgeoning problem of food allergy and anaphylaxis in Australia and has discovered a number of hypotheses for why food allergy is becoming increasingly common in the Western World. This overarching theory – dubbed "the 5Ds" – takes us from the internal milieu of our gastrointestines to the sunny climes of our holiday destinations. Professor Allen's work now underpins an exciting array of randomised controlled trials, all hot on the heels of an improved understanding of this puzzling phenomenon.
About the Speaker: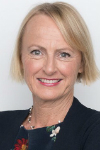 Professor Katie Allen (MBBS (Hons), BMedSc (Hons), FRACP, PhD, FAHMS) is a practicing Paediatric Gastroenterologist and Allergist at the Royal Children's Hospital, leading a team of 30 researchers including 5 PhD students at the Murdoch Children's Research Institute. She has published more than 300 papers and book chapters and is the Director of the NHMRC-funded Australian Centre of Food and Allergy Research.
She is an inaugural Fellow of the Academy of Health and Medical Sciences and Fellow of the American Academy of Allergy, Asthma and Immunology. She holds a Professorial Chair at the University of Manchester UK and is Professor of Paediatrics at the University of Melbourne.