Field Trip – Mt Rothwell Biodiversity Discovery Centre

The Royal Society of Victoria will convene its first field trip for the year with a visit to the highly regarded Mt Rothwell Biodiversity Interpretation Centre near Little River, to the west of Melbourne. This guided tour will depart by bus from the Royal Society of Victoria at around 2.30pm (exact timing to be advised) and return at approximately 10.30pm.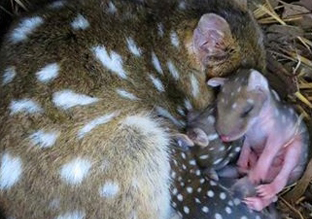 This is an excellent opportunity to experience one of Victoria's signature conservation projects in action, led by research staff at Mt Rothwell. Please join us to gain insight to the remarkable conservation and rewilding efforts underway, tour the remnant indigenous woodland eucalypt biota, enjoy a barbeque dinner and finish with a torch-lit walk on dusk to catch some of the returning crepuscular and nocturnal animals in action.
Mt Rothwell is a privately owned 420ha property located in a remnant habitat located 45km west of the CBD. This predator-free ecosystem is managed exclusively for the conservation of some of Australia's most threatened faunal species, including the Eastern Barred Bandicoot, Red Bellied Pademelon and Eastern Quoll. The management efforts are characterised by the careful use of apex predators like dingoes and sentinel dogs to ward off feral mesopredators like foxes and cats.
Mt Rothwell is of great significance to the heritage of Victoria's Indigenous peoples, with an archaeology site identified as a solar calendar system developed and utilised by the Wadawurrung/Wathaurong people of the Kulin alliance.
The visit is suitable for all ages and children are warmly encouraged to join in with their families, bearing in mind the late night (anticipated return to RSV around 10.30pm). While the walks are graded as 'easy-medium,' please note disability access is limited. The cost of the trip includes the return bus ride from the RSV to the Centre, Centre entry, tours, afternoon tea, dinner and drinks.
An excellent followup to the subject matter covered in RSV's 25th February lecture Fighting Extinction and our 18th March symposium Conserving Eucalypts.