Sustainable Solar Energy through Exciton Control
Ensuring energy security as we transition towards renewable resources is a major challenge for governments around the world. While there are many competing technologies, solar is without doubt an irreplaceable component in the energy generation mix. To increase the contribution of solar, much research is being dedicated to improving the efficiency and lowering the costs of the technology.
Excitons are formed when light is absorbed by a material. In solar cells, excitons dissociate into free charges, resulting in electric power. Understanding and controlling the fate of excitons is key to improving existing technologies, as well as developing new ones.
Join Dr Wallace Wong, who will present and discuss emerging solar photovoltaic technologies, with a focus on Australian and Victorian research.
About the speaker: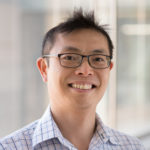 Dr Wallace Wong was born in Hong Kong and educated in Sydney, Oxford and Zürich. He is a Senior Lecturer at the School of Chemistry, University of Melbourne and is a Chief Investigator in the ARC Centre of Excellence in Exciton Science. His research interest is in functional organic materials – synthesis, characterisation and applications in light harvesting, chemical sensing and biological imaging.

This RSV lecture is proudly presented in partnership with the ARC Centre of Excellence in Exciton Science as a part of the "Light Conversations" lecture series.