Field Trip: Discover the Eucalypts of the Brisbane Ranges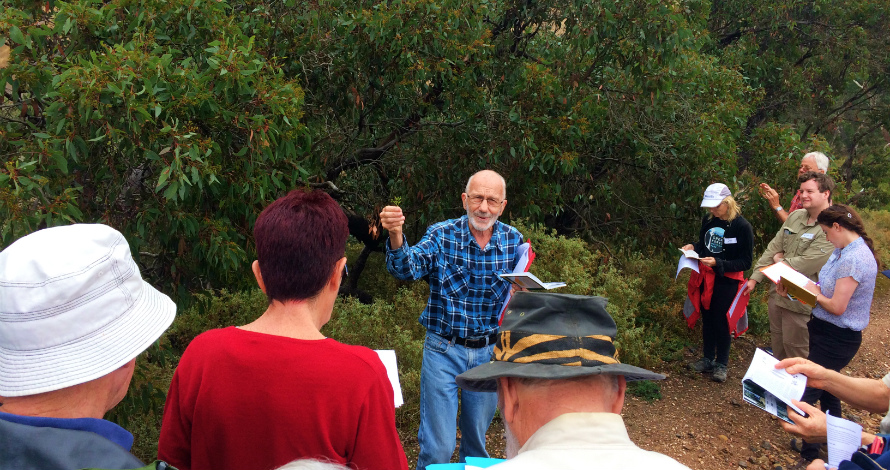 To celebrate National Eucalypt Day in 2018, the Royal Society of Victoria and Eucalypt Australia are offering a wonderful opportunity to explore the beautiful Brisbane Ranges National Park to the west of Melbourne with botanist, geologist and author of the iconic "Native Trees and Shrubs of South-Eastern Australia," Leon Costermans.
Setting out by bus from the Royal Society of Victoria early in the day, a short hour's journey will have us exploring the unique geology of the Brisbane Ranges and learning to identify some of the area's indigenous eucalypt species, their ecological roles and habitat ranges. The excursion will incorporate a bus tour, a gentle bushwalk and a barbeque lunch at the Steiglitz Historic Park.
Join us on 20 March, and make a deeper connection to country with one of Victoria's most respected botanists and geologists. This excursion is subsidised through the generous support of Eucalypt Australia as part of the week-long program of events planned around National Eucalypt Day 2018 (23rd March) and the Victorian Inspiring Australia program.
About Leon Costermans:
Leon is a longstanding member of the RSV. He has been describing and publishing guides to eucalypt species endemic to South-Eastern Australia for decades, educating and assisting generations of Victorians to develop a knowledge of and passion for our indigenous trees and plants. He was recognised by Eucalypt Australia for his lifetime contributions to the conservation of eucalypts with the award of the Bjarne K Dahl Medal in 2016.