Accounting for Carbon Storage in Trees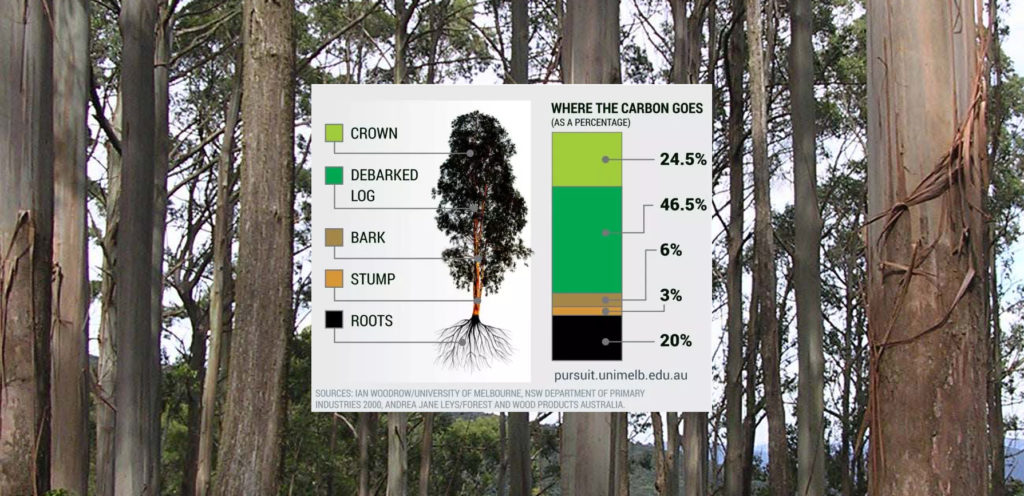 Associate Professor Brad Potter
Co-Director, Asia Pacific Social Impact Centre
The University of Melbourne
Professor Ian Woodrow
Head, School of Environmental & Forest Science (2017)
The University of Melbourne
Recently leaders around the globe have become more accountable for the impacts of their organisations on the environment, particularly in the case of carbon emissions. The creation of robust accounting models for carbon storage in trees has increasingly important implications for the business and finance sector and the investors, lenders, boards and shareholders who love hard numbers and reliable information to underpin sound business decisions in the emerging carbon economy. However, the enormous diversity of tree species and their different behaviours in a range of environments poses a challenge to standardising an approach to carbon accounting through investment in forests, woodlands and plantations.
Consequently, social and environmental impact accountant A/Professor Brad Potter is working with leading biological scientist Professor Ian Woodrow. Ian brings his deep understanding of plant behaviours, systems and growth rates under different conditions to the project, while Brad brings his thorough knowledge of business modelling and emerging reporting requirements. Together, Brad and Ian are working to develop a process-based carbon model from the complex urban ecosystem of Melbourne's Royal Botanic Gardens and its 6440 trees, for subsequent road-testing with its sister Royal Botanic Gardens in Sydney. One of the world's largest measurements of urban tree growth, the study provides an important test case and fills a significant knowledge gap, deriving southern hemisphere data on urban trees to complement the existing body of tree carbon research from North America.
Join Associate Professor Brad Potter and Professor Ian Woodrow, who will describe the development of a process-based carbon model for the Royal Botanic Gardens in Melbourne, the new means by which the information produced by carbon models can be communicated to interested parties and the opportunity for an enhanced basis for understanding, measuring and reporting carbon emissions to assist organisations and funding bodies in deciding how to most effectively allocate resources to reduce our society's carbon emissions.
About the speakers:
Associate Professor Brad Potter is an Associate Professor in Accounting at the University of Melbourne and co-director of the Asia Pacific Social Impact Centre. Much of his research involves collaboration with key organisations and individuals in accounting and business, including the two major professional accounting bodies, accounting standard setters and government regulators. In recent years, Brad's research has primarily focused on the measurement and reporting approaches used by entities to communicate diverse information relating to performance, position and social and environmental impact and the relevance of that information for stakeholders. Key outcomes of this work include; (i) a recent co-authored national report detailing the landscape of impact investment in Australia; (ii) a published research study examining the evolution of the reporting practices used by selected companies toward more integrated approaches that better capture the value created; and (iii) the current project to measure the carbon footprint of a major public garden in Australia and to develop effective approaches to meaningfully report the information to stakeholders.
Professor Ian Woodrow is the leader of the Plant Physiology Group in the School of BioSciences at the University of Melbourne. Ian received his BSc (Hons) from The University of Melbourne. He then completed a PhD in plant biochemistry at the University of Sheffield (UK) and stayed in Europe as a post-doc for a further three years (Technical University of Berlin, University of Münster) before returning to Australia as a QEII Fellow at the ANU. Ian then won a Harkness Fellowship and a CSIRO Post-Doctoral Award, which allowed him to work for two years at the Carnegie Institution at Stanford University. He was appointed as a lecturer in botany at the James Cook University in 1990 and after five years moved to the University of Melbourne as an ARC Senior Research Fellow. Ian has published widely on plant carbon and secondary metabolism. Ian was head of the School of Botany from 2010 to 2014, and he will be head of the School of Environmental and Forest Science from 2017.