School Holiday Science at the Royal Society of Victoria
The Royal Society of Victoria presents a science and art-based school holiday activity from the Scale Free Network.
MICROSCOPE DRAWING LABORATORY (MORNING)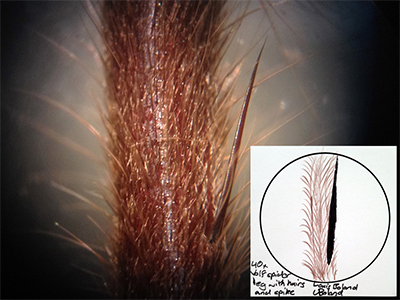 The Microscope Drawing Laboratory brings together science and art techniques to observe and explore the hidden microscopic world.
Combining direct observation of structures and organisms through microscopes with the art of observation through drawing, this workshop aims to create a greater connection between participants and the microscopic world under their fingertips.
Led by a microbial ecologist (Dr. Gregory Crocetti) and a visual artist (Aviva Reed/Briony Barr), this workshop will inspire the creation of artworks that are both beautiful and scientifically accurate.
There will be two stations running concurrently, with the group split in half, combining again after 45 minutes. The two main components are:
The first involves looking at a range of everyday objects through stereo microscopes and responding to these through drawing.
The second involves observing relevant microscopic images (micrographs) to inspire illustration. Participants will be provided with a lesson in watercolour painting. Using this technique, they will create an artwork inspired by the microscopic world. Please remember to leave a space on the fridge or the wall at home for all masterpieces created during this workshop!
SMALL FRIENDS STORYTELLING (AFTERNOON)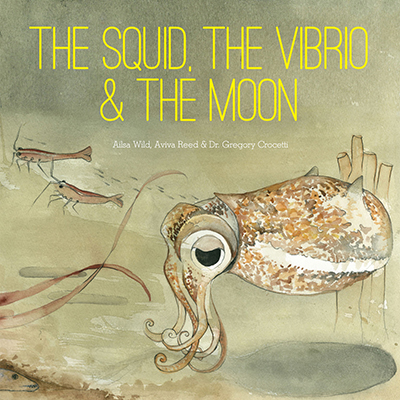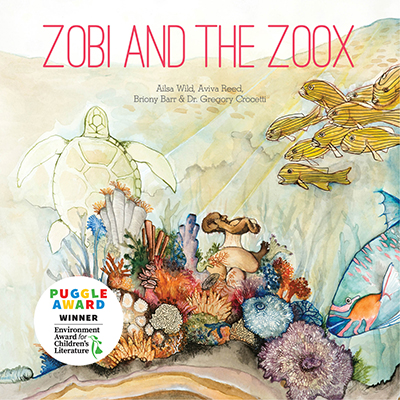 The Small Friends stories feature new illustrated science-adventure stories starring microbes, molecules and mucus – members of the tiny symbiotic societies living inside different marine animals. These two books highlight the role of partnerships and co-operation in nature (not just competition).
The books were created in collaboration with a small army of writers, artists, scientists, educators and designers – including writer Ailsa Wild, artists Aviva Reed and Briony Barr (SFN), microbial ecologists Dr. Gregory Crocetti (SFN) and Prof. Linda Blackall
Day One (For Ages 6 -10): The Squid, the Vibrio & the Moon is about a symbiotic relationship. It tells the story of the bobtail squid and the bacteria that helps it glow in the moonlight. First we meet Ali, an intrepid Vibrio fischeri bacterium determined to reach safety. Then we meet Sepio, a baby bobtail squid who is still unable to glow. His dark shape is too obvious in the moonlit water and all kinds of predators lurk nearby.
Can Ali and Sepio help each other?
What kind of dangers do they face?
What can we learn from their adventure?
Day Two (For Ages 8 – 12): Zobi and the Zoox tells the story of the microscopic friends living in a tiny coral polyp, based on the Great Barrier Reef. With her home under threat from a warming ocean, Zobi, a brave
rhizobia bacterium, teams up with a family of slow but steady Zoox (zooxanthellae). The coral becomes gravely ill and bacteria around them begin to starve.
Can Zobi and the Zoox work together to save the day?
Activities include:
a storytelling (with digitally projected story visuals) and facilitated scientific discussion on symbiosis and other relationships within the stories,
an artist-led marine creature drawing/painting activity, and
an author-led writing activity based on an imaginary aquatic landscape.
***
All program staff are engaging and experienced convenors of children's workshops, have up-to-date Working with Children Checks and First Aid training. For earlier children's microscopy workshops run by the Scale Free Network, see http://scalefreenetwork.com.au/project/ipswich-art-gallery-microscope-drawing-lab/
Register your child/ren for Day One (6 – 10 year olds):
Register your child/ren for Day Two (8 – 12 year olds):