Future Humans: Sex & Evolution
A NorthSTEM Network Event
Professor Jenny Graves AO
Distinguished Professor, La Trobe University; Professor Emeritus, Australian National University; Thinker-in-Residence, University of Canberra; Professorial Fellow, University of Melbourne
The presence of a Y chromosome is what determines whether a new human will be a male – and it's disappearing!
Over a long period of time, from generation to generation, the genetic information in the Y chromosome has been degenerating, and one day it will no longer be a functional component of human reproduction.
What will happen to all the men when this day arrives? Will this create an extinction event for humans, or will humans evolve a new way – or several new ways – to assign genders and continue as a successful species? Might there even be more than one species of human in the future?
These are just some of the questions that drive Professor Jenny Graves' amazing genomic and epigenetic research. In this interactive presentation, Jenny will take us on a journey to discover how her work has transformed our understanding of how sex chromosomes work in all vertebrate animals, how they evolved, and how she has predicted the decline of the human Y chromosome.
About the speaker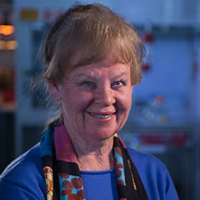 Professor Jenny Graves AO is based at La Trobe University Bundoora. She is an evolutionary geneticist who works with Australian animals; notably, kangaroos, platypus, Tasmanian Devils and dragons (lizards). Her research has contributed to a deeper understanding of the immune system, prion diseases and blood proteins, and helped understand the tumour diving the Tasmanian Devil to extinction. In a collaboration between La Trobe and the University of Canberra, she is studying how bearded dragons change sex in response to temperature, a critical issue as the climate warms.
In 2017 Jenny was the first solo woman to win the Prime Minister's Prize for Science for her pioneering work in genetics. She is an Officer of the Order of Australia, a recipient of the Australian Academy of Science's Macfarlane Burnet Medal and was the 2006 L'Oreal-UNESCO Laureate for Women in Science.
The NorthSTEM Network:
This event is generously hosted by Eltham High School in support of a new NorthSTEM Network, a community of interest convened by the Royal Society of Victoria, Melbourne Polytechnic and the new Whittlesea and Banyule-Nillumbik Tech Schools. These exciting new Tech Schools are education hubs that bring 21st century learning modes and environments to the network of local secondary schools, and also act as a "Science and Innovation Hub" in Melbourne's northern suburbs for the Victorian Inspiring Australia program.
Proceeds from the evening will be directed to building an open and inclusive new community program for people of all ages and cultural backgrounds in Melbourne's northern metropolitan region to engage with exciting new skills and emerging knowledge in Science, Technology, Engineering and Mathematics (STEM).