Fashionable Science: Wearables, Functional Textiles & Circular Fashion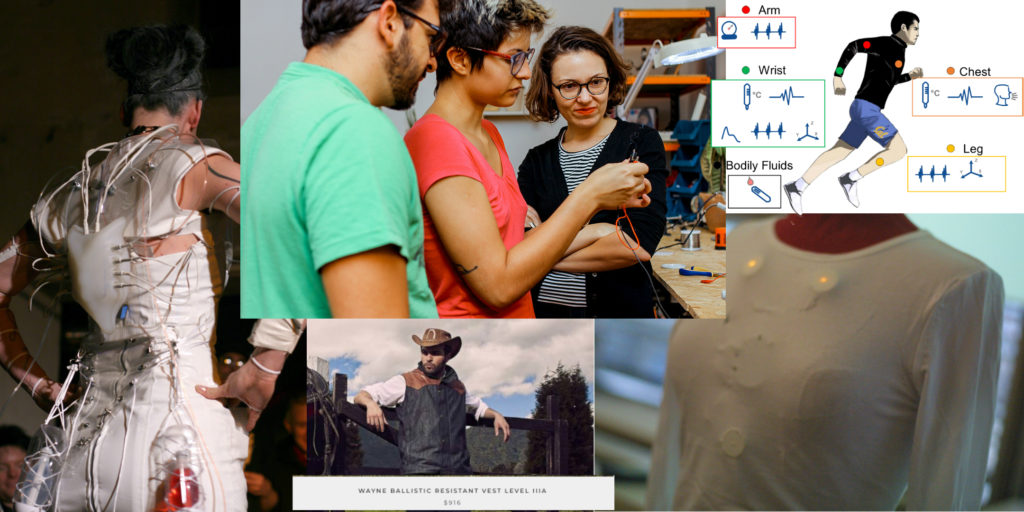 Panel Presentations & Discussion
"Fashion is the science of appearance"

– Henry Fielding
The laboratory has never been far removed from the catwalk. Science underpins both the technologies and materials used to create trends in fashion. Likewise, good design has much to offer science.
Now more than anytime throughout history, consumers are demanding more than just style and fit from their clothing, and more than just function from their wearable tech. We need great looking textiles which more effectively protect, support, and enhance the wearer, easy-care fabrics which fit our busy lifestyles, ethical fashion with low environmental footprints, and wearables which not only monitor medical conditions but are themselves desirable pieces of jewellery.
Will recycling solutions, circular fashion, creating functional textiles for protection and performance all have a place on the runway?

Join us for an interdisciplinary panel discussing how nanotechnology, material science and innovative design will help shape the future of fashion. Featuring:
Dr Leah Heiss
Leah Heiss is a Melbourne-based artist and designer whose practice is located at the nexus of art, design and science – using advanced technologies to develop potent human scale projects. Her process is deeply collaborative, working with experts from nanotechnology through to manufacturing. Leah teaches the Master of Design Futures with RMIT University's School of Design.
Current projects include new forms for hearing technologies, biosignal sensing jewellery, emergency jewellery for times of crisis, swallowable devices to detect gas fluctuations within the body, and ongoing experimentation with next-generation materials such as magnetic liquids, memory metals, and electricity conducting textiles.
She has won five Good Design Awards and her work is part of Museums Victoria heritage collection.
Dr Nolene Byrne
Dr Nolene Byrne is a Senior Lecturer at Deakin University, Australia with a joint position within School of Engineering and the Institute for Frontier Materials. Nolene's research and teaching interests centre on understanding process/structure/property relationships in polymers. A particular interest is in circularity and how sustainability and value can be added to waste by innovative processing, material design and product development. Nolene was a member of H&M Global Change Award in 2017 for a denim recycling technology.
Dr Rajesh Ramanathan
Dr Ramanathan is currently a Senior Research Fellow at the School of Science, RMIT University. He has a cross-disciplinary expertise that spans from physical sciences (materials chemistry) to biological sciences (microbiology, biochemistry, biotechnology and bioinformatics); engineering (nanotechnology) and statistics (chemometrics). His broad expertise in academia as well as industrial experience has enabled him to lead and contribute to several research projects across disciplinary boundaries. His current research has a strong focus on development of new nanomaterials for biosensor technologies with commercial potential, for example his recent development of nano-enhanced textiles that can spontaneously clean themselves of stains by simply putting them under sunlight or even a light bulb.
Dr Lyndon Arnold
Dr Arnold is a research physicist with over 45 years experience. He has worked in textiles for 18.5 years (CSIRO) plus 12.5 years at RMIT.
Dr Arnold has accumulated extensive experimental and theoretical experience in fields as diverse as acoustics and vibration, sound propagation, radar, atmospheric/stratospheric physics, general meteorology, geophysics, microseismics, coal mine explosions, fibre science and textiles, protective fabrics, and ballistic, stab and blast protection. He has particular interest and expertise in experimental physics.
His textile research has covered a broad range of fibre properties, textile production and fabric performance. His recent textile and fibre research includes the development of patented fibre-blend ballistic fabrics for protection against high-speed projectiles, and protective fabrics to mitigate the effects of high-speed impacts from blast debris.