Young Scientist Research Prizes 2023
This article recaps the Young Scientist Research Prizes competition, which was held at The Royal Society of Victoria on 28th September, 2023 and livestreamed by YouTube.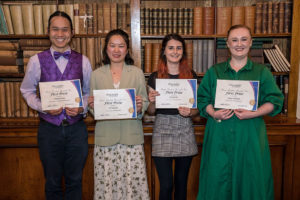 Every year, final year PhD candidates present their doctoral studies to the Royal Society of Victoria, competing for four Prizes that recognise excellence in Victoria's early career scientists. Eight finalists present under the four categories: Biological Sciences, Biomedical & Health Sciences, Earth Sciences, and Physical Sciences.
Warmest congratulations to all our finalists, with particular acknowledgement of William Kwan, Wenjing Yu, Sarah Mele and Grace Lawrence, the first prize winners of their respective categories. The rationale and significance for each presentation is provided below; video presentations from all finalists will be released in the coming weeks.
Physical Sciences
First Prize: Grace Lawrence, Swinburne University of Technology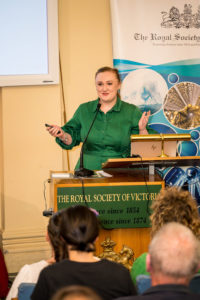 Dark Matter within Simulated Milky Way Analogues and the Subsequent Direct Detection Possibilities on Earth.
Grace's thesis focused on dark matter, which comprises 26% of our universe, and is studied through a wide range of observed, simulated and theoretical approaches. An abundance of indirect evidence for dark matter pervades our observations; however, the true nature of dark matter maintains one of astrophysics great mysteries.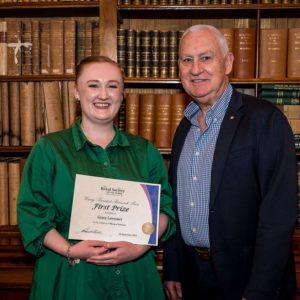 An important key to advancing our understanding of dark matter, is through direct detection experiments, searching for a sinusoidally modulating flux of dark matter through the Earth. Detectors search for this energetic signature left when a dark matter particle scatters off of a target detector.
The design, optimisation and predictions for direct detection experiments are based on the Standard Halo Model (SHM), a simplified way to understand galactic halos. Grace and her colleagues study how direct detection predictions change when the SHM is replaced with realistic simulated halos whose complex dark matter structure complicates direct detection predictions. The research was facilitated by a new, innovative count rate approach which re-derived differential rate equations, core to dark matter prediction work, to exclude intrinsic dependencies on the Standard Halo Model. These innovative calculations were developed into an open-source python3 package available on Github, Dark-MaRK.
Second Prize: Thulya Chakkumpulakkal Puthan Veettil, Monash University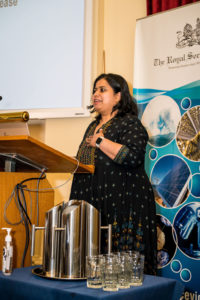 Vibrational Spectroscopic Approaches for Leishmaniasis Disease Diagnosis
Currently, neglected tropical diseases (NTDs) result in devastating health, social, and economic consequences for more than 1 billion people. Leishmaniasis is a vector-borne NTD associated with a spectrum of clinical manifestations. The Leishmania parasite is second only to malaria in terms of infectivity and severity, posing a major worldwide health threat, especially in African, South American, and South-East Asian communities.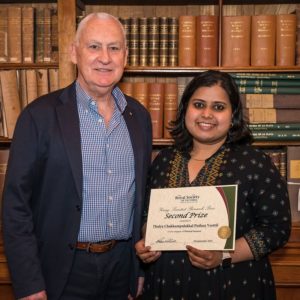 The gold standard relies heavily on parasitological tests, identifying infection via analysis of affected tissues or in samples aspirated from the spleen, bone marrow, or lymph nodes. These analyses are invasive and can cause patient distress. The tests rely heavily on skilled technicians and are both time-consuming and expensive.
For the first time, Thulya and her colleagues are incorporating the synchrotron infrared spectroscopic approach and advanced machine learning tools to characterize isolated parasites along with leishmania infected and uninfected macrophages. Recently, they demonstrated that a portable ATR−FTIR spectrometer coupled to a cloud-based diagnostic algorithm could be used as an efficient and reliable malaria detection tool that achieves similar or better results than PCR. Given the consistency of the spectral signatures obtained from Leishmania infected and uninfected macrophages, they envisage similar success in the deployment of ATRbased technology for point-of-care leishmaniasis detection.
Earth Sciences
First Prize: Wenjing Yu, La Trobe University
Combined US-ESR dating of mammal teeth at Taung, Cradle of Humankind, South Africa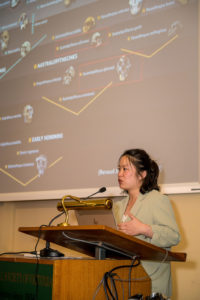 South Africa has been of great interest for researchers studying human origins since the discovery of the Taung Child Australopithecus africanus fossil in 1924, however, making sense of the relationship of different hominin species in South Africa has always been challenging, in large part because of the issues of dating them accurately.
To address this, the current study has used the direct dating method US-ESR dating to explore the mystery of one of our earliest ancestors, Australopithecus africanus fossil, presenting insights into human evolution and the deep history of ourselves. A central research question of the Taung Child site is understanding lineage evolution in Australopithecus africanus.
This research is the first attempt at directly dating the mammal teeth from Taung. Using the US-ESR dating method to directly date the hominin teeth buried in the same layer as Taung will bring significant progress to our understanding of our origin. The demonstrated success in this aim permits the assessment of human evolution at a scale never before achieved.
Second Prize: Estefania Montoya Duque, The University of Melbourne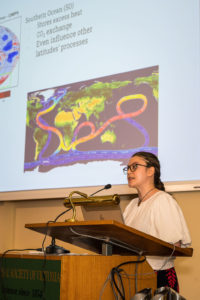 Unravelling the Mysteries of Clouds over the Southern Ocean: The Key to Improving Climate and Weather Predictions
The Southern Ocean (SO) is a crucial element of the Earth's climate system because it transports CO2 and heat between the surface and deep ocean, impacting a wide range of climate phenomena across the globe. Besides, the SO has unique characteristics such as frequent precipitation, ubiquitous cloud cover, roaring winds, and common presence of ice cover.
Within this context, accurately representing the SO's energy balance in climate and weather models is crucial. However, climate models commonly suffer from long-standing radiative biases over the SO, which are traced back to the poor understanding of clouds and their properties over this region. Additionally, the pristine environment with limited to no human activity over the SO adds another layer of complexity. Precipitation processes, on the other hand, are also complex to represent since they are the result of an interaction between thermodynamics, dynamics, cloud microphysics, and boundary layer processes.
The research by Estefania and her colleagues is among the first to couple cloud and precipitation fields with the thermodynamic conditions in the atmosphere over the remote SO using newly available field observations. Their results will allow the scientific community to better understand these cloud and precipitation processes and to provide information to satellite and modelling developers to improve their forecasting abilities.
Biomedical and Health Sciences
First Prize: William Kwan, Monash University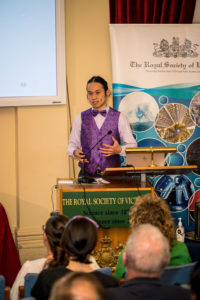 A hybrid stimulation strategy for vision restoration in retinal prosthetics
Vision is our most important sense to navigate the world. Unfortunately, over 100 million adults worldwide experience vision loss and those who acquire retinal diseases such as macular degeneration can suffer from total blindness. Retinal prosthetics are being developed as a potential treatment for those who become severely visually impaired from such diseases.
Currently, no device restores vision to levels above legal blindness. A significant issue is that these devices rely on electricity to stimulate the retina. Electricity has a tendency to spread and this inadvertent, broad activation of the retina results in low-resolution visual perception.
The strategy employed by William and his colleagues is to incorporate optogenetics, a technique that allows the activation of retinal cells with light. A major advantage of optogenetics is that stimulation is more focal, because light doesn't spread like electricity. William's team consider a hybrid optogenetic-electrical approach could be a breakthrough in developing treatments to ultimately restore sight. However, the utility of optogenetic stimulation has been held back by its poor temporal resolution. Their proof-of-principle hybrid stimulation technique has significantly improved the utility of optogenetic stimulation and warrant further exploration within in vivo retinal degeneration models. The translational potential of the study recommends further collaboration within the biomedical engineering industry and commercialisation landscape.
Second Prize: Marina Yakou, La Trobe University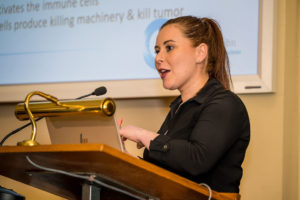 γδ T cells are promising immunotherapy targets for colorectal cancer
Colorectal cancer (CRC) is the 2nd leading cause of cancer death in Australia, with ~15,000 new cases and ~5,300 deaths in Australia annually. Despite the success of immunotherapy drugs for many types of cancers, over 95% of CRC patients remain unresponsive to these treatments. Furthermore, current immunotherapies are associated with autoimmune-like side-effects, creating an urgency to develop CRC-specific immunotherapies to overcome these adverse events and enable more improved responses for CRC patients.
Intraepithelial lymphocytes (IELs) are among the mucosal immune cells which protect the gut barrier. These unique and heterogenous populations of tissue-resident immune cells are interspersed within the gut epithelium, predominantly comprising αβ and γδ T cells.
IELs, particularly γδ T-IELs, are important for controlling CRC development and progression, highlighting their potential as anti-cancer agents. The data gathered by Marina and her colleagues show IELs are required to control tumour immunity in the colon. Overall, their work paves the way for development of CRC specific-immunotherapies and biomarkers to predict disease progression, ultimately improving patient survival.
Biological Sciences
First Prize: Sarah Mele, Monash University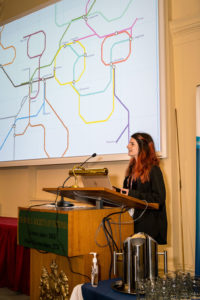 Defining diets to treat amino acid metabolism disorders
Amino acid disorders (AADs) are a group of rare inherited diseases that are unique in that many are amenable to treatment by changing the diet. Patients, typically infants and young children, develop progressive neurological conditions that become life-threatening if left untreated. The underlying problem is a missing enzyme causing a metabolic block preventing essential nutrients from being broken down for energy.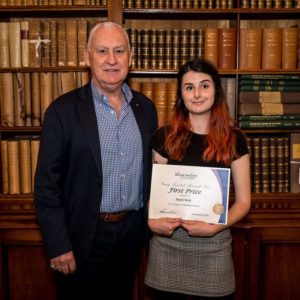 Dietary treatment strategies aim to restrict intake of the relevant metabolites and/or supplement deficient metabolites. However, due to their rarity, many AADs do not have effective treatments.
Sarah focused on two AADs: Short chain enoyl-CoA hydratase deficiency (ECHS1D) and 3-hydroxyisobutyryl-CoA deacylase deficiency (HIBCHD). These are both severe conditions arising from blocked valine catabolism. She modelled these diseases in the fruit fly, Drosophila melanogaster, a powerful genetic model as many human genes and enzymes are represented by a single conserved analogue in the fly. Currently, these fly models are the only animal models for these diseases with a complete genetic knockout.
The ECHS1D and HIBCHD fly models established here are an excellent resource for validating new treatments which is essential for such rare and debilitating diseases. New treatments identified using these models could go on to be trialed in the clinic for children suffering with these conditions.
Second Prize: Ella Plumanns Pouton, The University of Melbourne
The mechanisms through which fires shape plant life cycles
Fire is a key driver of plant diversity, and many plants have adaptations that help them thrive in fire–prone ecosystems. However, changes to fire activity threaten thousands of plants worldwide. We require knowledge on how fire drives ecological change to support biodiversity into the future.
Fire impacts plants across their life cycles. For example, if there is insufficient time between fires for plants to mature and grow a seedbank, this prevents plants from reproducing and can cause local extinction. The influence of fire can also depend on plant traits, such as if a plant has the capacity to resprout, release seeds or flower post-fire.
To understand the future of plant populations under fire regime change, empirical research on demographic changes across the plant life cycle is required. Ella has studied the fascinating fire associations of plants, from ungerminated seeds to mature trees, both above and below ground. By quantifying the types of fire regimes that support different types of heathland plants, this research provides scientific foundations for fire management that prevents extinction in heathland ecosystems across Victoria. This knowledge is essential in the face of more frequent, severe wildfires globally.
---
Assessment and Judging
Finally, enormous thanks to our assessors & judges for wading through the applications and making some very painful decisions on the big night! Acknowledging the efforts of Dr Jane Canestra, Dr Christopher Draper-Joyce, Dr Ellen Cottingham, Dr Amy Coetsee, Dr Rebecca McIntosh, Dr William Birch AM, Dr Catriona Nguyen-Robertson, Mr Scott Reddiex, Mrs Nicola Williams, Dr Catherine de Burgh-Day and Dr Viktor Perunicic – we're most grateful for your labours!
Video (YouTube Live)
A Few Images from the Evening
With thanks to our photographer, Karey Shandler.