A Joint Win for the RSV's 2018 Phillip Law Postdoctoral Award

The physical sciences – a vast field of enquiry taking in the already broad disciplines of physics, chemistry, meteorology, engineering and technology – share the allure of high research commercialisation potential with the medical sciences. Depending on the field, there is strong incentive for investment by governments and industries in discovering new materials, harnessing the properties they exhibit and applying these to the remarkable technologies they can enable. Arguably, the best projects combine this high potential for commercial value with the intrinsic, principled drive to call forth a better world; conserving energy to minimise carbon emissions, perhaps, or overcoming barriers to successful clinical interventions in otherwise debilitating conditions.
This year, the assessors of the Royal Society of Victoria's Phillip Law Postdoctoral Award in the Physical Sciences worked diligently through the pile of applicants that grows, year on year, with the growth in Victoria's remarkable pool of talent. It is an intensely competitive field of Early Career Researchers and, this year, our assessors simply could not find a way to separate the two lead applicants.
"Both have made – and continue to make – significant contributions to modern physics with different, substantial potential for application," explained Dr Peter Baines, the Secretary of the Royal Society of Victoria and one of the assessors. "We were scoring for the quality of each applicant's total output and contribution, rather than just emphasising citations, patents or contributions to the science community," explained fellow assessor and RSV Councillor, Dr Tom Beer. Ultimately, the two lead applicants were ruled a dead heat.
The Society congratulates Dr Sumeet Walia and Dr Nishar Hameed on their joint win of the 2018 Phillip Law Postdoctoral Award for the Physical Sciences!
Dr Sumeet Walia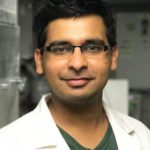 Dr Sumeet Walia is a Vice-Chancellor's Research Fellow based at RMIT University's School of Engineering. He has received numerous awards and prizes – including being named one of the region's top tech innovators – for his research, which involves working with functional materials for small scale electronics, or nanoelectronics. Nanoelectronics is electronics at dimensions that are one billion times smaller than a meter. At such small sizes, materials show unique and exciting properties that are not present at larger scales. These properties can change technological paradigms, allowing small systems to be very energy efficient while displaying remarkable performance over conventional technologies. Sumeet's work is based on unlocking novel properties in ultra-thin materials and deploying them to demonstrate fascinating next-generation applications in electronics and healthcare. He is developing future semiconducting materials for electronics, chips that can mimic the human brain for storing and recalling past information, smart sensors for health monitoring and miniaturised energy sources. His research relies on multidisciplinary innovation to create functional application-oriented, futuristic platforms for implementation across the breadth of technology.
In 2017, Sumeet was presented with the Victoria University Research Impact Award at the Victorian Young Achiever Awards.
Sumeet attained his Bachelor of Engineering, then his PhD from RMIT, completing in 2013 before working as a Research Fellow, Lecturer and now Senior Lecturer within the School. He extensively supervises young researchers and has successfully brought his research through to patents and commercialisation opportunities, with further high potential in the pipeline.
Dr Nishar Hameed
Dr Nishar Hameed is the group leader of Smart Polymers and Composites Research Group within the Manufacturing Future Research Institute "Factory of the Future" at the Swinburne University of Technology. Prior to joining Swinburne, Nishar was a Research Fellow at Carbon Nexus, Deakin University, where he completed his PhD and an Alfred Deakin Post Doctoral Fellowship. Nishar's research focusses on frontier technologies from advanced composite materials, enabling enormous potential for environmental and economic impact. His achievements include many "firsts" in the field, inspiring follow-up studies, patents and research commercialisation. Nishar recently developed several new technologies to produce smart, flexible and rapid-cure composites that can be integrated to make formable and fibre-reinforced composites, concrete preforms and graphene nanocomposites.
Nishar has won many awards and fellowships as he advances his research career, including a Victoria Fellowship and an Australian Research Council DECRA Fellowship. He supervises an impressive group of PhD and Masters students, and has acted as President of the Carbon Division of the Royal Australian Chemical Institute.
*   *   *
Our thanks to all 2018 applicants, and to assessors Dr Peter Baines, Dr Tom Beer and Dr Kevin Orrman-Rossiter for working through a challenging process! The two winners will be presented with their award certificates and a prize of $1,500 each, and will share their work via two short talks, delivered at the Royal Society of Victoria on the evening of Thursday, 27th September. Join us for "Faster, Lighter, Smarter," and help us to celebrate the accomplishments of two high-achieving, Victorian early career researchers.