Top Climate Scientist Awarded the Royal Society of Victoria's Research Medal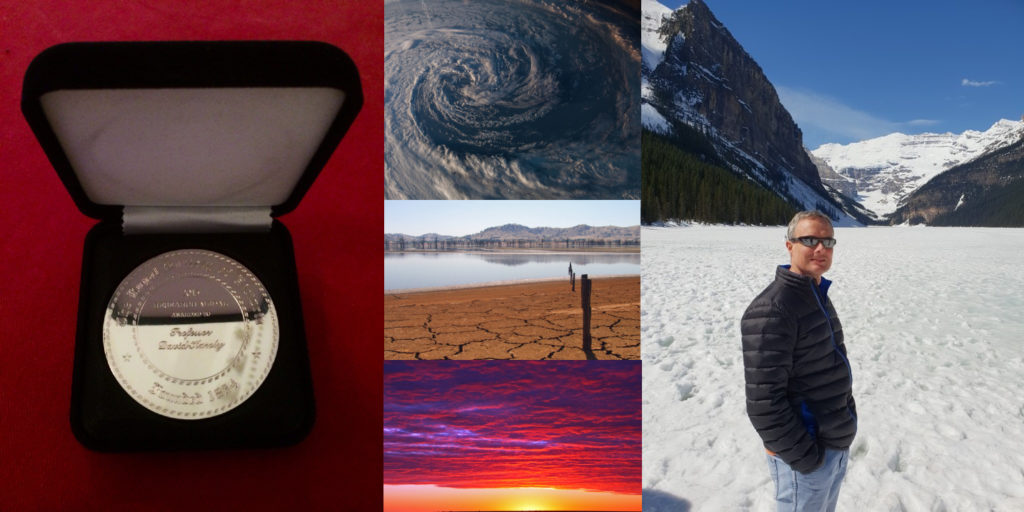 The Royal Society of Victoria is delighted to congratulate the 2019 recipient of the RSV's prestigious Medal for Excellence in Scientific Research – Professor Andrew Pitman AO, Director of the ARC Centre of Excellence for Climate Extremes (CLEx), a national centre based at the University of New South Wales involving five Australian universities, major Australian research agencies and many international partners.
Inaugurated in 1959, this year the Medal turns 60 and was awarded in Category III – the Earth Sciences. The Research Medal recognises peak research career achievements and outstanding leadership in research by Australian scientists, particularly those conducting work in (or about) the State of Victoria. In his leadership of CLEx, Professor Andy Pitman convenes scientists from institutions across the nation; here in Victoria, the Centre's participants are drawn from Monash University and the University of Melbourne. The Centre works to understand the behaviour of climate extremes, such as heatwaves, cold snaps, extreme rainfall, cyclones and drought, and how these directly affect Australian natural and economic systems.
"Andy has conducted extensive climate science research on land surface models, looking at the impact of terrestrial changes in Australia's climate and the moderation of climate extremes," explains Dr William Birch AM, a member of the assessment panel and Editor in Chief of the Society's scientific journal, the Proceedings of the Royal Society of Victoria. "He has produced 99 papers of exceptional quality and impact in the ten years up to 2018, and most significantly has led two ARC Centres of Excellence with extensive participation in key international, national and government committees. Andy's remarkable output is reflected in his numerous awards – he is an outstanding scientist, and a significant science leader."
In receiving the recommendation of the assessment panel, the Society's Executive Committee was faced with a very close outcome between some remarkably competitive nominations. "To be almost overwhelmed with a field of globally significant scientists is a wonderful problem to have, and it's a testament to Professor Pitman that he was selected ahead of some truly outstanding colleagues," reflects David Zerman, the Society's President. "We hope to see these names in the mix again next time."
"For me, it's particularly pleasing to see Professor Pitman's strong record of participation in discussion with mainstream media, government panels and public speaking engagements to share this important knowledge base beyond the scientific community. Leadership requires many personal qualities, and courage is one of the most important. In the public realm of climate science, scientists regularly encounter political and cultural conflict, and Professor Pitman is plainly capable of negotiating this volatile space with the rigour of his research at his back."
RSV CEO Mike Flattley reflects on awarding this Victorian research medal to a scientist located in New South Wales: "The RSV's Medal is an Australian award; we do emphasise work conducted in or about Victoria, and certainly Professor Pitman leads a centre that takes in the work of our state's two leading research institutions, so we're quite satisfied on that point. Ultimately, we balance the quality and impact of work conducted in Australia with our focus on promoting science in Victoria, and I think it speaks very highly of Andy's national work that he comes out ahead of the pack despite his interstate base."
The Royal Society of Victoria congratulates Professor Andrew Pitman, the 2019 recipient of the RSV Medal for Excellence in Scientific Research. Andy will be presenting his work to the Society at a public lecture titled Climate Extremes: Present and Future on the evening of 12th December, 2019, where he will be presented with the 2019 Medal.
About the Medallist:
Professor Andrew Pitman AO
Professor Pitman's research focus is on terrestrial processes in global and regional climate modelling, model evaluation and earth systems approaches to understanding climate change. His leadership, collaboration and research experience is extensive both nationally and internationally.
He is currently the Director of the ARC Centre of Excellence for Climate Extremes (2017 – current) and was previously the Director of the ARC Centre of Excellence for Climate System Science (2011-2017) and Co-Director of the Climate Change Research Centre (2007-11). He is a Professor of Climate Science at the University of New South Wales.
His leadership, collaboration and research experience is extensive both nationally and internationally. Between 2004 and 2010 he convened the ARC Research Network for Earth System Science, which facilitated interaction between individuals and groups involved in climate system science. He is a member of the Australian Community Climate and Earth System Simulator initiative, the Academy of Science's National Committee for Earth System Science, the NSW Minister for Climate Change's Science Advisory Committee and the Department of Climate Change Advisory Committee. In 2007 he was appointed to the Prime Minister's Science, Engineering and Innovation Council on Regional Climate Change.
Internationally, Professor Pitman is closely affiliated with the World Climate Research Programme (WCRP). He was chair of the WCRP's Land Committee for the Global Land Atmosphere System Study from 2006 to 2008, and is now on its Science Steering Committee. As Co-chair, he jointly led one of the first major international intercomparison exercises: the Project for the Intercomparison of Land Surface Parameterization Schemes, which is supported by WCRP and the International Geosphere Biosphere Programme. He also sat on the Science Steering Committee of the Integrated Land Ecosystem-Atmosphere Processes Study and is currently co-coordinator for the project Land Use Change: identification of Robust Impacts.
Professor Pitman is a regular invitee for keynote presentations and is a passionate communicator about science, contributing regularly to the media on the science of climate change. He was a Lead Author for Intergovernmental Panel on Climate Change (IPCC) Assessment Reports 3 and 4, contributing to the award of the Nobel Peace Prize to the IPCC in 2007. He has also contributed to the Copenhagen Diagnosis, an Australia-led update of the science of climate change. He has held editorial positions with the Journal of Climate and the Annals of the Association of American Geographers' Journal of Geophysical Research-Atmospheres and is currently an editor for the International Journal of Climatology.
Earlier awards and accolades received by Professor Pitman include: NSW Scientist of the Year Award (2010), the Australian Meteorological and Oceanographical Medal (2009), the Dean's Award for Science Leadership at Macquarie University (2005), the Priestly Medal for Excellence in Atmospheric Science Research (2004) and the Geoff Conolly Memorial Award (2004). He jointly won the International Justice Prize for the Copenhagen Diagnosis (2010) and was among Sydney Magazine's list of the 100 most influential people (2010).
Professor Pitman has a long track record of nurturing early career researchers and has supervised 10 PhD students through to successful completion, plus five master's and a significant number of honours students. He has published more than 150 papers in peer-reviewed journals and has authored 20 book chapters.