Let's Torque – 2021 Competition Now Open
The Let's Torque Public Speaking Competition is now open!!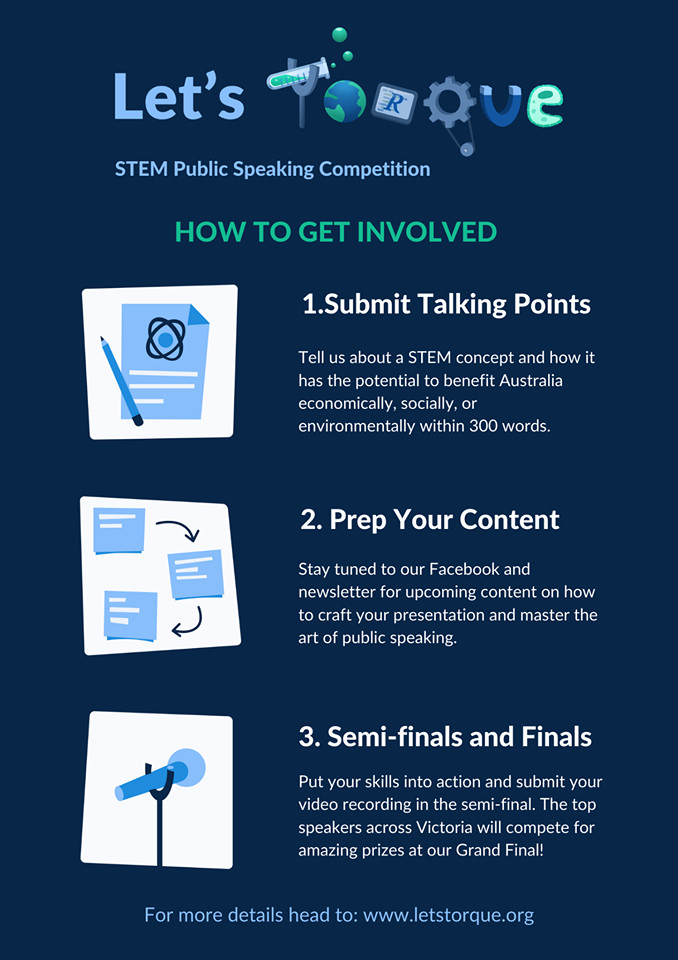 Looking for an effective way of boosting your networks, increasing your communication skills, and meeting like-minded students from other universities? Want an unrivalled chance at presenting at the Royal Society of Victoria in front of Science Communication employers and superstars?
Welcome to Let's Torque, a SciComm organisation for undergraduates, where you can participate in trivia events against other universities, attend state-of-the-art immersive workshops, and see SciComm like never before! Check out our newly opened Public Speaking competition (where you can compete for prize money and other winnings!), which has kickstarted the careers of many past competitors. We hope to see and torque to you soon ;)
Registrations/Talking Point Submissions close on June 30th, so get in quick! Check out our website for key dates and apply.
The registration link is here.

***Do you have a student membership at the Royal Society of Victoria? Send us a private message for a 25% discount code for entry submission***
Feel free to contact us at [email protected] or @letstorqueSTEM on FB and Instagram.
---
Science Speaks Louder than Words
East Melbourne Library Meeting Room
(122 George St East Melbourne VIC 3002)
Tuesday June 1st – 7pm-9pm AEST
AND a repeat workshop on
Wednesday June 2nd – 7pm-9pm AEST
To be a great speaker, an orator that's proud,
One needs to focus on more than your speech;
There are vital aspects beyond being loud,
So join us, we're here to teach!
In our ever-changing world, strong science communication has never been more important.
In Let's Torque's second workshop of 2021, meet us and our brilliant guest SciComm presenter Michael Wheeler (from ACU & the University of Melbourne) at the East Melbourne Library to discover the vital non-verbal aspects of SciComm; Design Principles, Stance, Gesture and more!
Come join us on June 1st or June 2nd at 7pm to help round out your presenting skills in new and accessible physical and visual aspects! In this workshop, we will show you how learning visual design principles and aspects of giving a physically powerful presence will elevate your speech. Here are our FB events for the two workshop evening repeats you could book.
Bookings for the event are $5 to cover costs, and you can find our booking system here! We look forward to seeing your marvellous molecules there :)