RSV Research Medal Awarded to Professor Rachelle Buchbinder AO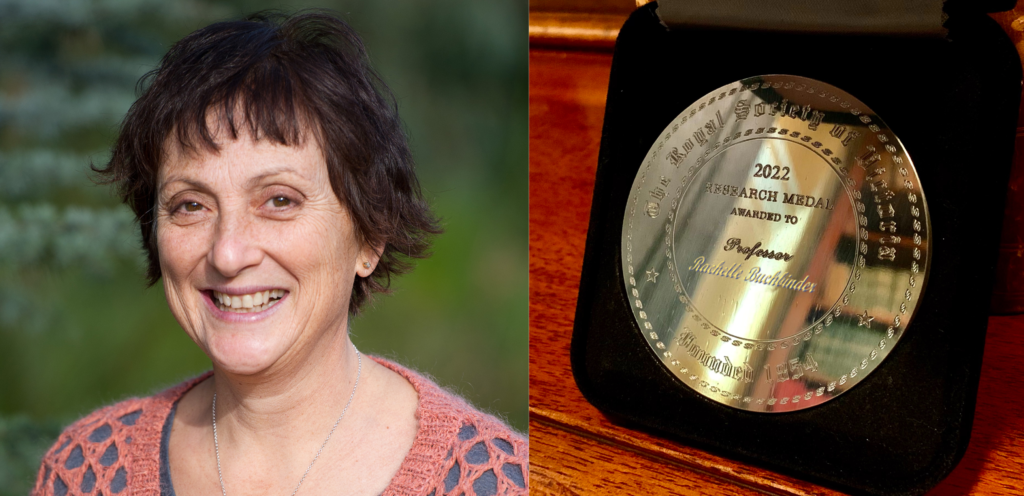 The Council of the Royal Society of Victoria is delighted to congratulate Professor Rachelle Buchbinder AO on her selection to receive the RSV's 2022 Medal for Excellence in Scientific Research. The Research Medal recognises peak research career achievements and outstanding leadership in research by scientists working in the State of Victoria. This year the Medal is awarded in Category II – the Biomedical and Health Sciences.
A senior practicing rheumatologist and clinical epidemiologist, Professor Buchbinder conducts a broad range of multidisciplinary research projects relating to the treatment of arthritis and musculoskeletal conditions, as well as improving communication with patients and general health literacy. Her objectives include reducing over testing, over-diagnosis and waste in health care, identifying more efficient service delivery models and studying the long term outcome of inflammatory arthritis in Australia.
She has made outstanding contributions to her field through consistent excellence and developing methodologies of great value to other researchers. Professor Buchbinder is frequently consulted as a spokesperson for evidence-based healthcare and the reduction of wasteful practices in medicine, particularly in her specialist fields. She has inspired many clinicians and scientists.
Demonstrating a vigorous commitment to building health literacy in the global community to counter the burden of disease from uninformed health behaviours, she conceptualised and co-led creation of the Health Literacy Questionnaire (HLQ), which has been translated into 30+ languages and has been included in national health surveys in Australia, New Zealand & Denmark. The HLQ is now one of the most widely used measures of health literacy in the world, providing a reliable and valid measurement to inform targeted interventions by clinicians and improve patient health outcomes.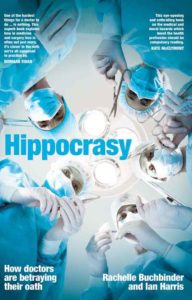 Rachelle is first author (with Professor Ian Harris) of Hippocrasy: How doctors are betraying their oath, published in October 2021, addressing waste in medicine from overdiagnosis, over treatment and low value medical care. The book is a non-fiction bestseller.
She has led or co-led 23 influential, high impact randomised controlled clinical trials published in high impact journals that have changed practice and policy, resulting in improved outcomes for patients with arthritis and other musculoskeletal conditions. A potent example is her trial and subsequent Cochrane review synthesising the results of all trials of vertebroplasty, definitively establishing its lack of efficacy and potential for harm, which led to the removal of public funding for vertebroplasty in Australia and a decline in use of the procedure internationally.
Her invited editorials and opinion pieces in major journals such as the New England Journal of Medicine, Lancet and BMJ have also influenced public opinion and reduced use of low-value treatments such as knee arthroscopy to treat osteoarthritis in the knee. Her trials have been cited in over 100 systematic reviews and cited to support over 60 recommendations across many musculoskeletal conditions, including gout, rheumatoid arthritis, osteoporosis, osteoarthritis, shoulder and back pain in national and international clinical guidelines.
Professor Buchbinder's research publication track record is exemplary. Between January 2011 and December 2021, she published over 336 papers, along with editorials, commentaries and letters. Her H-index since 2017 is 95, with 95,163 citations. Her leadership of an international group of authors in 2018 led to publication of a series of papers in The Lancet, addressing the 50% increase in global rates of disability from low back pain since 1990, drawing attention to the sheer complexity of the condition, recommendations for treatment and further research, and a call to action to recognise the level of disability associated with the condition along with the social, economic, psychological and cultural factors contributing to its global prevalence. Through the group's carefully crafted engagement strategy, the series received unprecedented media coverage with all 3 articles achieving Altmetric scores in the 99th percentile. There was media coverage in at least 17 countries, particularly vigorous in the United Kingdom, Australia, and Denmark.
Lead assessors and RSV Councillors, Dr Jane Canestra and Professor David Walker, were delighted to endorse Professor Buchbinder's nomination by her colleagues Professor Michael Abramson and Professor Christopher Maher.
"Professor Buchbinder's work has been one of global leadership in medicine, identifying changes that benefit patients by reducing harms to individuals, and redirecting the health economy to more efficient treatments and areas of previously unaddressed need," said Dr Canestra. "Her impact has been extraordinary, inspirational to all researchers. She's an exceptional physician, a leader in her field and very highly regarded."
"Someone once said that a bad idea in medicine takes nearly 100 years to overturn," said Professor Walker. "Perhaps we need more Rachelle Buchbinders!"
"She has a stellar national and international reputation as a clinician who has brought a bright light to examining the worth of many clinical practices in the area of arthritis, musculoskeletal health, and management of back pain. She has initiated and managed many international trials that have provided much needed data on what is worth doing, and what is not."
RSV President Rob Gell AM was particularly impressed with the many different ways in which this year's Medallist has translated her work into real beneficial change.
"Professor Buchbinder is without question a high-performing researcher. However, we must recognise that any scholar's personal output of journal articles and hoard of related citations, while a significant indicator of prowess, is a narrow measure of the actual medical, social, environmental or economic impact of their work; which is the social compact that all public research must find some way to fulfil."
"I think it's really valuable for scholars and experts from other disciplines and sectors to take a deep dive into the work of medical researchers like Rachelle Buchbinder and apply her methods to their own domains. In Rachelle's work, we really start to understand how to translate research into practice. She has extended from her own excellent medical practice and discovery research to synthesise the complex work of other scholars, conclusively demonstrating where clinical practices are conducted without recourse to an evidence base, even causing more harm to patients than good."
RSV CEO Mike Flattley is effusive in his praise for Professor Buchbinder's "crusading" approach to healthcare optimisation. "I can think of no field of endeavour that doesn't come up hard against its own resource constraints, and we all know the medical workforce has been under remarkable pressure to sustain its response to the pandemic," he says.
"While we rightly celebrate the hot action of discoveries, cures and breakthroughs, the value of clearly demonstrating what doesn't work through robust scientific methodology is simply not given enough oxygen. She knows we have to stop wasting time, money, and years of patients' lives by continuing to support ineffectual or harmful practices, and found a way to cut through."
"This is particularly important when addressing the overall quality of life for millions of people living with musculoskeletal conditions, and the cost to societies around the globe of this burden of disease. Professor Rachelle Buchbinder's efforts are an example to all researchers because they have had genuine, global impact for patients, clinicians, other researchers, and the healthcare systems that support us all."
About the Medallist: Professor Rachelle Buchbinder AO, FAHMS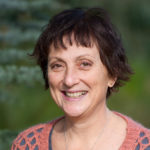 Professor Rachelle Buchbinder is an Australian NHMRC Investigator Fellow. She has been the Director of the Monash-Cabrini Department of Musculoskeletal Health and Clinical Epidemiology since its inception in 2001 and a Professor in the Monash University Department of Epidemiology and Preventive Medicine since 2007. She is a rheumatologist and clinical epidemiologist who combines clinical practice with research in a wide range of multidisciplinary projects relating to arthritis and musculoskeletal conditions.
Professor Buchbinder will be presented with the 2022 RSV Medal for Excellence in Scientific Research by Laureate Professor Peter Doherty AC FRS FMedSci FRSV, following a presentation on her work to the Royal Society of Victoria on the evening of Thursday, 8th December, 2022. Full details and registrations are available at https://rsv.org.au/events/optimising-healthcare/.