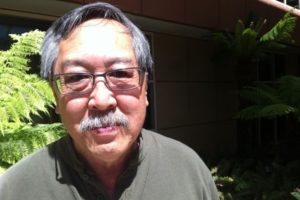 Members will be saddened to learn of the death of Associate Professor Alan Louey Yen. Alan served on Council from 2005 to 2007 and held the position of Honorary Editor of our journal, the Proceedings of the Royal Society of Victoria. During this time, Alan organised several regional symposia on environmental issues, the papers from which were published in special issues of the Proceedings.
Alan joined the National Museum of Victoria (now Museums Victoria) in 1981 as a curator in the Invertebrate Survey department and over the next 20 years he participated in numerous expeditions, coordinated several exhibitions, and co-edited and published books on Melbourne's Wildlife, Worms to Wasps, and Spiders and Scorpions Commonly Found in Victoria, this last one for the Royal Society's publication programme. After retiring from the Museum, Alan held a number of academic positions, notably as an Associate Professor at Latrobe University and as a research leader with the CRC on Plant Biosecurity.
Alan's PhD was on psyllids associated with Acacia, and he worked on invertebrate surveys, the conservation of threatened invertebrates, human entomophagy, and biosecurity associated with native Australian and exotic insects. He was a notable researcher and advocate for the addition of edible insects to global cuisine to fulfil current and future demands for protein intake, developed from his studies on the traditional insect foods of the Indigenous peoples of Central Australia.
Alan is fondly remembered by a grateful Society as an energetic, enquiring and gentle man with a keen sense of humour, who has left a lasting scientific legacy in the field of native and exotic insects. Our deepest condolences go out to Alan's family, friends and colleagues.
A service was held today at the Lilydale Memorial Park Crematorium. The family has advised that donations to Eastern Palliative Care or Cure Brain Cancer would be appreciated in lieu of flowers.