The BrainSTEM Innovation Challenge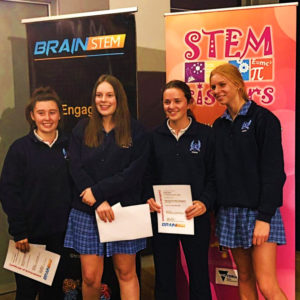 BrainSTEM's programs engage high school students through direct participation in real world Science, Technology, Engineering and Mathematics (STEM) challenges, participating in innovation and research projects with the guidance of a university-level STEM mentor.
BrainSTEM offers students in metropolitan and regional areas with the opportunity to work in a research environment and participate in the journey of scientific discovery, side by side with their university mentor. Programs include a 12-week Innovation Challenge and workshops on building adaptable, resilient minds and design thinking.
As of 2019, BrainSTEM's programs have:
Reached more than 400 students
Provided more than 4,000 hours of mentoring
Achieved a 60% participation rate from public/lower SES schools
Achieved a 55% participation rate for girls.
BrainSTEM is an inclusive program, with a focus on nurturing more female STEM enthusiasts. Your support will help us to bring on board more mentors and to offer programs in more rural and remote areas while keeping program costs to low-SES schools and communities as low as possible.

To learn more about what BrainSTEM does – head to our website brainstem.org.au or send us an email.