"Silver Buckshot" for Energy Transition
by Catriona Nguyen-Robertson, Science Engagement Officer
This article follows a joint presentation to the Royal Society of Victoria and the Australian Academy of Technology and Engineering (Victorian Division) on 8th July, 2021, titled "Decarbonising Energy: At the Tipping Point," delivered by Simon Holmes à Court (University of Melbourne). All images used here were captured during his presentation. 
We might not be experiencing drastic leaps in global average temperatures in our lifetimes, but our children and their children certainly will. They will be saddled with the decisions that we have made, and our actions (or inaction).
As we endeavour to become more sustainable, energy transition towards more renewable sources is accelerating. Solar and wind energy are displacing coal. Australia has installed more renewable generation infrastructure in the last three years than the thirty years prior. Yet, we also have the highest per-capita greenhouse gas emissions than any other advanced economy and are nowhere near close our Paris Agreement goals.
How Can we Turn this Around?
For Simon Holmes à Court, it began with a house he built in Daylesford. Off the main power grid, it was powered by a solar battery. While the battery would be fully charged by early morning during summer, he found that had to rely heavily on his diesel backup in winter. He wanted to be able to use wind power instead.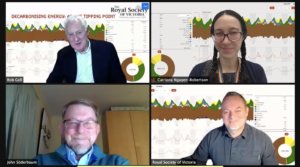 Simon and others in the local community formed a cooperative, Hepburn Wind, with the goal of powering the area with wind energy. (Somehow, Simon accidentally became the Founding Chair after their first meeting.) Within 24 months, they had raised $10 million for two wind turbines, Gale and Gusto. In 2011, they were connected to the grid as Australia's first community-owned wind farm, producing enough clean energy for over 2000 homes. At the centre of the project, Simon was exposed to the engineering, energy market, politics, finances, and communication, and it sparked his interest in this space.
In 2017, Australia's former Chief Scientist, Dr Alan Finkel, published a review into the future of the National Electricity Market. The Finkel Report determined that the electricity sector was Australia's largest source of pollution, accounting for 35% of our greenhouse gas emissions and created a blueprint to take us in a different direction by ramping up renewables and energy storage uptake. Simon was heartened that it showed coal rapidly being phased out as Australia transitioned to other sources of energy, with wind and solar become the champions.
But for times when "the wind doesn't blow and the sun don't shine", we will still need to rely on dispatchable generation to keep the lights on. Just like our food, energy can come in "fresh" or "frozen" forms – either being fed directly into the grid and used as it is produced or being stored in power systems that can be turned on and off at will. Moving forward, Simon hopes that we will rely on solar batteries and hydro power as cleaner forms of "frozen" energy.
Australia has three pumped storage hydro schemes which can provide several days to a week's worth of energy in a pinch. But we have so few as the infrastructure to support hydropower requires terrain in an area that is not environmentally sensitive and access to the grid, and each hydro dam is bespoke. Instead, it is easier and cheaper to produce solar panels as they are simply copies of each other. Australia now has the highest adoption of rooftop solar per capita than anywhere else, and they are also highly effective. Even if a solar panel is placed on the wrong (south-facing) side of an Australian house, it will still generate more electricity than one in Germany. It therefore makes both environmental and economic sense for us to shift to solar energy.
With a shift to solar and wind energy and decrease in coal usage, the electricity sector is reducing carbon emissions. However, the gains in this sector are being overwhelmed by emissions from others. Simon therefore advocates for a reduction across the whole economy: 'we should electrify everything and move to 100% renewables,' he says.
The transport industry is a major contributor to greenhouse gas emissions. Compared to other developed nations, Australia's standards for fuel quality, efficiency, and emissions standards are well behind – being less friendly to both the environment and motorists' wallets. With population growth, more people are using cars with poor standards – it is unsurprising that emissions are on the rise.
'There is no silver bullet for carbon change,' says Simon, quoting Bill McKibben. 'Only silver buckshot – we need a combination of many transitions, not in the electricity sector alone'.
Simon believes that we have much to learn from other countries that have much more advanced thinking in this space as they have spent the past decade, not thinking about whether they should transition, but how.
Two new Australian projects demonstrate that we, too, can be leaders in energy transition. The Sun Cable Project aims to build the largest solar energy infrastructure network in the world. The solar farm and battery storage facility will be built in one of the most reliably sunny places on the planet in the Northern Territory by the end of the decade. The goal is to supply Darwin, Singapore and ASEAN markets with reliable and competitively priced renewable energy via a 4,500km transmission system (including 3,750km of sub-sea cable). Additionally, the Tasmanian Government's Renewable Hydrogen Industry Development Funding program envisages the construction of a green hydrogen plant to produce one of the world's largest green hydrogen plants to supply both Australia and Japan.
As Australia becomes a renewable energy superpower with these projects and more, the cost of energy will fall. The plans exist, but if we are to reach our Paris Agreement targets, we need the political and financial support as well as coordination between sectors and governments. We have so much potential to be world leaders in energy transition as we fire silver buckshot to hit net zero.
Video Presentations:
Full Lecture:
Short Digest: