Scientific Research Leads to Disease Prediction – A Boon for Australian Canola Growers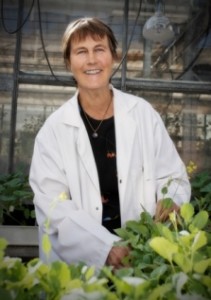 A breakthrough in disease prediction saved canola farmers on Eyre Peninsula, South Australia, at least $18 million in 2012. The major threat to canola, Australia's third most valuable grain crop, is a fungal disease named blackleg, which causes cankers at the base of the canola stem. Over the last decade, a team led by Professor Barbara Howlett, School of Botany, the University of Melbourne, and funded by Grains Research and Development Corporation (GRDC), has used traditional and molecular genetic techniques to monitor blackleg resistance of canola varieties sown across Australia.  Professor Howlett's scientific research underpins advice to farmers on best management practices to minimise losses in crop yield due to blackleg infections.
Late in 2011 Howlett's team noted alarmingly increased levels of blackleg disease in particular canola varieties on the Eyre Peninsula, compared to levels in previous years. This finding was backed up by molecular analyses and glasshouse experiments. In conjunction with GRDC, warnings were issued in March 2012 to grain growers on the Eyre Peninsula that plant resistance to blackleg disease was likely to become ineffective and 'breakdown' if particular canola varieties were sown that season. Alternative varieties with resistance that would not breakdown were recommended for planting. This advice was taken up almost unanimously. The predictions of resistance breakdown were validated in November 2012, when high disease levels were noted in the 'banned' varieties, but not in the recommended ones in trial sites on the Eyre Peninsula.
By sowing other canola varieties, not only did farmers avoid devastating yield losses, but plant breeding companies were able to sell these 'banned' varieties in other canola-growing regions, where it was predicted that resistance breakdown would not occur. This was a 'win-win' situation for farmers and seed companies.
Professor Howlett addressed the Society on 11 July 2014 as part of the RSV's public lecture series.
For more information on blackleg disease and canola contact:
Professor Barbara Howlett
School of Botany, The University of Melbourne 3010 VIC, Australia
phone: +61 3 8344 5062; FAX: +61 3 9347 5460 email: [email protected]