A Response to Concerns from the Extinction Rebellion Action of 28 June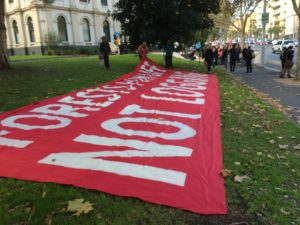 I've been alerted to a number of concerns held by those attending the peaceful protest action at the Royal Society of Victoria (RSV) last Friday afternoon for the cancellation of DELWP's community consultation and subsequent closure of the Society's building. This statement is provided at my earliest opportunity to help clarify matters from the Society's perspective.
As an independent organisation, the Society's relationship with government is complex. In some cases we act as a partner, in some as a service provider, and in others as a venue provider. We are also a grant recipient to enable the Inspiring Victoria program. Sometimes we collaborate, sometimes we lobby.
In the matter of appointing a Scientific Advisory Panel to inform the new Regional Forest Agreements earlier this year, the RSV acted as a service provider – this was a fee-for-service arrangement that enabled the scientific community to recommend the best people for the Panel independent of the Victorian Government, who were keen to demonstrate an arms-length process to the communities of interest and concern. Our brief was to seek an appropriate balance of disciplinary expertise, experience and gender to inform a robust process of review and advice to the Department of Environment, Land, Water and Planning (DELWP). I consider the RSV to have delivered a solid outcome here.
In the matter of the current public lecture series on the science informing the new Regional Forest Agreements, we act as a partner with DELWP, as the purpose of the briefings aligns with our aim to bring scientists and their work to bear on matters of great concern to Victoria and Victorians. This spirit of partnership means the RSV and DELWP contribute their time and resources to the program at each agency's own expense.
In the matter of DELWP's community consultation sessions held last Thursday and Friday, the Society acted as a venue provider, an activity that provides our chief source of revenue to sustain our operations. We are essentially a small venue hire business that underwrites the membership organisation's aims and objectives, and the Victorian Government is our chief client. This does not mean we are the organiser, host or partner of our clients' events, and any claims to the contrary must be dismissed.
Being a small organisation, most of our staff are part time or casual, and late last week most were absent on annual leave for the start of the school holidays. DELWP's decision to cancel the Friday consultation was taken on the Thursday afternoon, and our casual event support staff cancelled their shifts accordingly. Concerned that many would not receive notification, our caretaker attempted to contact some of the protest organisers to provide due notice, but the many and various parties to a typically organically-formed protest event were unknown to us and the task of mass communication simply beyond our capacities. This was further complicated by the fact that this event was neither ours to cancel nor take ownership of.
Regardless, we are genuinely sorry for any inconvenience experienced by those who attended and could not gain access to the building, particularly those who travelled some distance – there was no meeting conducted within, other than those held by our non-government tenants. Personally, I was at Wilson's Promontory spending some long overdue time with a much-neglected family, so only our caretaker was on site, towards whom the ire of a protest movement would have been unreasonably directed had the building been open. The building was closed on advice from security staff appointed by DELWP, with whom we complied to ensure the well-being of our staff member. We note there was a vigil held on site as intended and I hope some of the aims of the gathering were met in this regard.
The Society supports open, objective discussion and debate on matters of principle, and many of our members are aligned with or sympathetic to the concerns of the Extinction Rebellion and the preservation of Victoria's biodiversity more generally. Our next public lecture on soil and water is planned for later this month on 25 July – all are welcome.
We have been advised that requests for further communication on last Friday's event should be directed to [email protected] .
With thanks,
Mike Flattley
CEO