RSV Fundraiser: The Ellery Theatre Project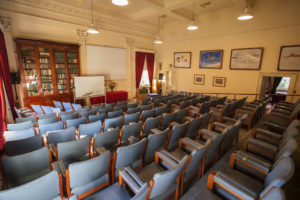 As a community-based, not-for-profit organisation, the Royal Society of Victoria has been promoting science since its beginnings in 1854.
Since those days, methods and styles of communication have changed beyond the imagination of our earliest members and presenters. To enable the wider Victorian community (and potentially, those interstate and overseas) to engage with our fascinating talks, forums and discussions with Victorian scientists and science communicators about their exciting work, the Society is planning a major audio visual upgrade of our heritage listed Ellery Theatre so we can broadcast our events, forums and presentations in an engaging, interactive format to the broader Victorian community, further providing content via a dedicated online channel and media partners for access after delivery.
This accords with our strategic goal to engage Victorians in the excitement of scientific discovery and celebration of our high achieving scientists at all stages of their career development.
How The Funds Will Be Used
The costs of the project are largely comprised of audio visual equipment including: cabling, lighting, cameras, microphones, amplifiers, and lecture capture technology. The project includes the installation of an internal Ethernet network and connection to a broadband internet network to facilitate a reliable connection to audiences interacting with our events from regional Victoria. Much of this infrastructure will be installed in what is currently our archive room, which will be transformed into a "bio box" for audiovisual operators to work in remotely without undue diruption to event proceedings or occupying the limited seating space available to members and guests in our small theatre.
While specialised technical equipment and labour are substantial line items in the budget, the project is also constrained by the need to preserve and enhance the beautiful heritage decor of our 1859 Joseph Reed-designed building and its gorgeous Victorian-era interiors. This means a lot of "work-arounds" during installation and extensive project management to secure the requisite heritage permits for this transformative work to proceed.
The Challenges
We aim to raise $50,000 from our community of members and friends, with the additional $180,000 support from philanthropic trusts and foundations, corporate supporters and government partners. This fundraiser is a vital first step, demonstrating the commitment of the Society and its members to the project to prospective funding partners and supporters. It is a large undertaking for the Society, which has not seen a substantial technical investment in its facilities for some decades, in which time information and communication technology has undergone radical change.
To keep pace with the march of technology, it will be important for the installation to anticipate and accommodate upgrades to equipment, cabling and resident expertise at suitable future intervals. This will inform our annual budgets for recurrent operating expenditure.
Please use the Eventbrite portal below to make any contribution, large or small, towards our ambitious program. The Society is a registered charity, and all donations over $2 are tax deductible.