Congratulations to Young Scientist Research Prize winners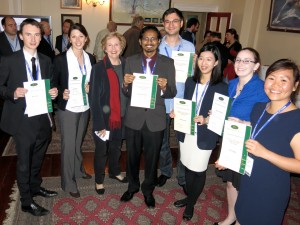 An audience of over seventy Members and guests were inspired, educated and entertained by the Finalists in the 2014 Young Scientist Research Prize oral presentations on 25th September.  Results were as follows:
Biological (non-human)
Winner – Kylie Soanes
Australian Research Centre for Urban Ecology, Royal Botanic Gardens Melbourne
"Bridging the road-gap for wildlife"
Runner up – Yin Ying Ho
ARC Centre of Excellence in Plant Cell Walls and Bio21
"Post-translational modifications of CSLF6, the major catalytic sub-unit of (1,3;1,4)-B-Glucan (mixed linkage Glucan) synthase of cereals"
Biomedical & Health Sciences
Winner – Bevan Main
Dept of Pharmacology and Therapeutics, University of Melbourne, Parkville, Victoria, 3052.
"Targeting  type-1 interferon signalling is neuroprotective in the MPTP mouse model of Parkinson`s disease."
Runners up
Matthias Koenning
Department of Anatomy and Neuroscience, University of Melbourne, Victoria 3010
"Myelin Regulatory Factor: A key regulator of myelin maintenance and its molecular mechanism.
 Aliki Rasmiena
Department of Biochemistry and Molecular Biology, Faculty of Medicine, Dentistry, and Health Sciences, The University of Melbourne, Parkville, Victoria, Australia; Baker IDI Heart and Diabetes Institute, Melbourne, Victoria, Australia
"Attenuation of atherosclerosis by plasmalogen enrichment: an animal study."
Physical Sciences
Winner – Jacqueline Delaney
Department of Chemistry, La Trobe Institute for Molecular Science, La Trobe University
"Low-Cost Sensing for Everyone"
Runner up – Sharmen Rajendran
Dept of Chemical Engineering, Monash University
"Chemical looping combustion of Victorian brown coal with inherent CO2 capture and H2 generation"