Collecting Insights – Environmental Adaptation in Victoria
by Catriona Nguyen-Robertson
RSV Science Communications Officer

The STEM and Society series of online presentations explores the science and stories behind the game-changing work undertaken by Victoria's scientific community. Leading experts spoke about the work they are doing to engage the community and bring about meaningful change in their field of study and in our everyday lives. This series was presented by the Victorian Parliament, in partnership with the Royal Society of Victoria, the Victorian Parliamentarians for STEM and supported by Inspiring Victoria.
 This article follows a panel discussion on 14th July 2021 with Dr Sally Sherwen (Zoos Victoria), Professor Tim Entwisle (Royal Botanic Gardens Victoria) and Dr Ken Walker (Museums Victoria), led by Kate Phillips (Museums Victoria). This was the final, capstone event as part of the ACCLIMATISE program for National Science Week and Parliament's STEM and Society series for 2021.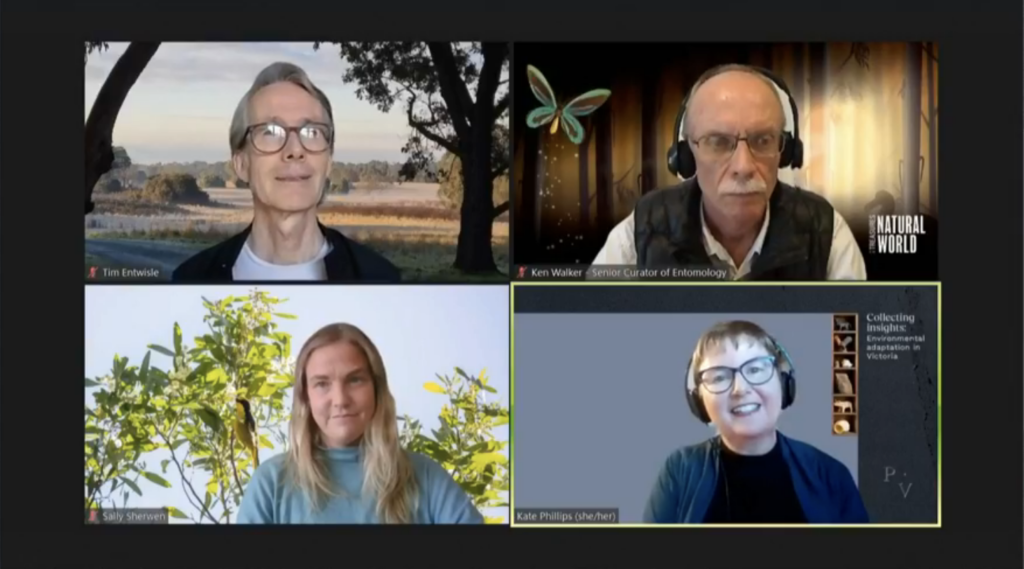 Natural history, botanical and zoological collections reveal our place in the past, present and future. To know where we are headed and whether the planet can adapt to a changing climate fast enough, we first need to look back.
Visiting Melbourne Museum, Melbourne Zoo or the Royal Botanical Gardens is a fun day out, yet many don't realise that, behind the scenes, they are also important research hubs. Dr Ken Walker, Dr Sally Sherwen and Professor Tim Entwisle discussed what their respective organisations are doing to protect Victorian flora and fauna in the face of climate change.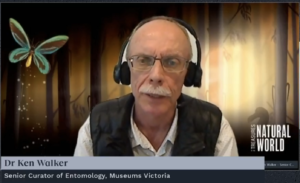 'Natural history museums are libraries of life…we need to preserve the past to see into the future,' says Ken.
The collections entomologist Ken works with are incredibly valuable troves of information. Australia does not have a single national collection but has 120 public biodiversity collections that hold over 70 million specimens worth around $8 billion.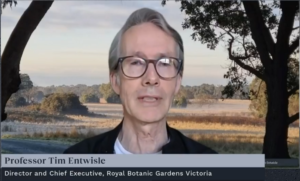 While Ken works in an 'insect morgue', the Royal Botanic Gardens are teeming with life. Across two gardens and a nursery, they are a living collection with 9,000 different plant species. Led by Tim, teams at the gardens research adaptation, maintain an enormous seed bank and seedling nursery, and help cultivate plants and gardens that will survive and thrive over the next 100+ years as it gets hotter and drier.
'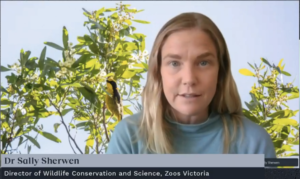 No species on Earth is immune to the impacts of climate change,' says Sally.
 Everything within an ecosystem is interconnected. Plants are a source of food and shelter for animals and animals aid in seed pollination and distribution. Animals rely on other animals and food sources being available at certain times of the year. If one goes out of whack, they all do.
At Zoos Victoria, Sally and her team are working hard to save threatened species. They are committed to fighting wildlife extinction by running captive breeding and recovery programs, as well as launching campaigns around animal welfare. Animals have ways to adapt to changing climates, but evolution does not work fast enough. They cannot respond as ecosystem changes accelerate.
The 2019-2020 bushfires pushed many species over the edge and all three organisations responded rapidly. Many animals and insects died immediately or in the aftermath, and many plants were reduced to char.
The Royal Botanic Gardens surveyed the destroyed habitat. What did animals have to go back to after the fires? Very little. The team took cuttings of plants to grow them in the nursery, and quickly replanted trees to restore habitats.
With the loss of shelter and food, and at increased risk of predation, animals became incredibly vulnerable. Zoos Victoria set up a rapid conservation breeding program, bringing animals to safety so that populations could bounce back in a sanctuary. For example, there is only one population of the Eastern Bristlebird in Victoria near Mallacoota and an expert team extracted birds by helicopter to ensure their continued survival. Young critically endangered Spotted Tree Frogs were also saved from their home to be the founders of future generations.
Ken and other etymologists monitored insect populations in the affected areas. Very few insects remained. While they had previously observed 46 different species across five locations, after the fires, the insects were only to be found in one place. The genetic diversity and spread across the landscape were gone. Unlike the animals rescued by Sally's team, invertebrates are difficult to relocate. Insects instead rely on the seedlings planted by Royal Botanic Gardens and others – and we have to hope that's enough.
While the bushfires were catastrophic and the impacts were sobering, it is heartening to hear how people are driving recovery and ensuring that we have a future rich in biodiversity. The three speakers are also hopeful for the future of science to help address the climate crisis.
Taxonomy provides a way to communicate information about species and their context in nature. Australia is estimated to be home to 600,000 species of flora and fauna, yet 70% remain unnamed. If we continue at the current rate, it will take 400 years to name them all and many will have gone extinct in that time (while new ones may emerge). To speed things up, Taxonomy Australia launched a 25-year mission to name them all. Increasingly advancing technologies such as genetic sequencing, artificial intelligence and supercomputing might make it possible to give us a good handle the diversity of life on our planet
We as individuals can play a part too. We can drive social change, be conscious about how our actions can influence the environment (both positively and negatively) and be citizen scientists. People can help gather data on which species are found where and changes over time. A great advocate of citizen science projects, Ken often says, 'tell me what's in your back yard, because I can't get there.'
While climate change is a great cause for concern, there are many organisations here in Victoria working tirelessly to protect the environment. An estimated one million species are on the brink of extinction, but we can change their trajectory by working together. Combining the skills of our current and future scientists with the whole community, we can help our plants and animals adapt to Victoria's warming, drying climate.
Video (Facebook Live)