Championing Translation & Commercialisation of Australian Medical Research
Australia has a vibrant medical technology and pharmaceutical (MTP) sector, recognised globally for its excellence and innovation. This article follows a presentation to The Royal Society of Victoria delivered by Dr Rebecca Tunstall, Senior Director of Stakeholder Engagement at MTPConnect. In her role, Rebecca leads collaborative teams to drive connectivity, innovation and productivity in this sector.
With nearly 1,300 companies and an exceptionally skilled workforce of 68,000 across industry and research, the MTP sector is a major contributor to the Australian economy. A strong culture of collaboration underpins Australia's medical and pharmaceutical innovations and advancements. This enables access to innovative therapies and medical devices that assist in the diagnosis, treatment and monitoring of disease, providing significant benefits to patients and improving overall population health outcomes.
The MTP value chain extends from research, where discoveries and inventions are made, to pre-clinical and clinical development, and to manufacturing and market launch of products. It encompasses a wide range of participants: companies, researchers, industry associations, governments, universities, investors and regulators, each playing a critical role in the sector's growth and success. MTPConnect was established in 2015 to bring them all together.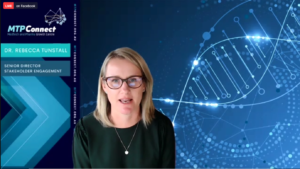 Australia has a rich history in innovation and commercialisation with many great success stories. CSL was privatised in 1994, listed at $2.30 a share – and it is now $264 a share. Sirtex developed a targeted radiation therapy for liver cancer that has since been used in 40 countries and was recently acquired by a Chinese company. We also have the world leading company in hearing implants, Cochlear. Smaller companies have also demonstrated that they do not need to be big to be successful; by being acquired by larger companies or attracting overseas funding, they are contributing to sector growth.
Rebecca outlined emerging "megatrends" that will 'reshape our world in the next 10-50 years.' Digital evolution is central to them all, allowing the rapid exchange of information, advances in genomic sequencing and big data collection to support precision medicine, and integrated care models with artificial intelligence and robotics. She wants to see Australia at the forefront, revolutionising healthcare with these emerging technologies.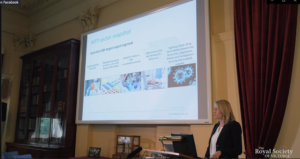 Unsurprisingly, the Australian MTP sector played a key role in response to the COVID-19 pandemic. Healthcare facilities and research institutes worked together to ensure that medical supplies were available and vaccine options could be rapidly developed and produced. However, those not in infectious disease research were negatively impacted. Early in the pandemic (before May 2020), more than 90% of clinical trials and elective surgeries were halted, and universities suffered a severe lost in revenue, leading to cutbacks in jobs and research output. By October, the sector was on the road to recovery with government and industry collaborating to make supplies available and ensure future pandemic preparedness (while still battling the current pandemic).
Australia is not heavily involved with COVID-19 clinical trials (due to the low disease burden), but other clinical trials have resumed while other countries are still unable to proceed. We can move forward while the rest of the world is essentially in a standstill for non-COVID work. 'It is key for us to harness this opportunity,' says Rebecca. 'There was a clear appetite for innovation…we need to make sure we have resources and staff in hospitals, and the right infrastructure, to support it.'
Even without a pandemic, it can be challenging for entrepreneurs to develop new therapies, technologies and medical devices due to the finances involved. MTP Connect established the Biomedical Translation Bridge program to nurture translation through to the proof-of-concept stage. By providing up to $1 million in matched funding and mentoring and commercialisation advice over the course of two years, the program de-risks and helps develop ventures so that they can attract further funding opportunities. There are currently 21 projects funded by the program, assisting ventures that aim to produce preventative interventions, cures and treatments for disease. These include Noisy Guts, a non-invasive acoustic belt that uses artificial intelligence to diagnose and monitor common gut disorders, and as an example of rapid development in the face of a public health emergency, the University of Melbourne produced a patient isolation hood that protects healthcare workers from COVID-19 and reduces viral levels in the immediate surroundings.
MTPConnect also established the BioMedTech Horizons program to support research and collaboration, and create opportunities to locally manufacture precommercial prototypes of medical devices entering clinical trials.  To date, the program has supported 39 projects, including EarGenie at the Bionics Institute for personalised hearing technology, AxceldaPen at The University of Melbourne for 3D bioprinting of stem cells directly into injuries during surgery, and Anatomics' Smart SkullPro helmet to monitor brain activity in stroke and trauma patients. While medical technology innovations may eventually go offshore as they expand their reach in the global market, this program aims to ensure that we keep them in Australia for as long as possible to support the Australian sector.
The growth of the MTP and digital health sector is dependent on the skills of its workforce. MTP connect devised the Researcher Exchange and Development within Industry (REDI) initiative to provide opportunities for skills development by creating new training, mentoring and industry placements. MTPConnect partners with existing programs and organisations to deliver deeper impact, with the provision of training and support spanning all the way from the level of graduate students and budding entrepreneurs, to people further in their careers with fellowships.
MTPConnect supports and incentivises the translation of new technologies, treatments and devices by distributing government funds to budding ventures to that they can be leveraged to attract further investment. 'We've got great potential to increase commercialisation of the innovations across Australia,' Rebecca says. 'We've got great people, they're skilled, and we have the infrastructure to support it.' We have a history of great innovations coming out of Australia that bring biomedical research from bench to bedside – and Australia undoubtedly has much more to offer in the future.
This article was prepared by Catriona Nguyen-Robertson and outlines a presentation given by Dr Rebecca Tunstall from MTPConnect at the RSV on the 11th March 2021. Watch the full recorded presentation here.