Research Spotlight: Anna Flanagan-Moodie
PhD Candidate, Deakin University
PhD Supervisor: Professor Andrew Bennett
Winner, 2015 Young Scientist Research Prize for the Biological (Non-Human) Sciences
"Prescribed burning decreases den site habitat of the yellow-footed antechinus"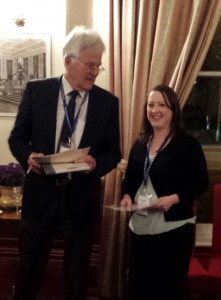 For her PhD thesis, Anna investigated the effect of prescribed burning of the den sites of Antechinus Flavipes, commonly known as the Yellow-footed Antechinus (a small, native, nocturnal marsupial resembling a mouse and comprising of canine teeth) in a dry box-ironbark forest of Central Victoria.
Prior to her PhD, Anna worked as an Environmental Education consultant, and also in the areas of Forest Management and Water Management on the Murray River. Her zeal for the environment through nature documentaries, bushwalking and camping, along with her role as a firefighter in Deniliquin, NSW, led her to pursue a PhD in Fire Management with Deakin University. In particular, she was driven towards Environmental Science in terms of caring for and improving the natural environment.
Her findings will equip forest managers in making make more informed decisions about prescribed burning and animal habitat, and predominantly when to plan for fires in dry forests to avoid impact on the breeding seasons of native animals. The Yellow-footed Antechinus and other hollow-dependent mammals, reptiles and birds will reap the benefits.
Dr Flanagan-Moodie has set her sights on pursuing postdoctoral opportunities or exploring roles with state or local government.
by Priya Mohandoss