Science for Science Fiction: A Conference for Science Fiction Writers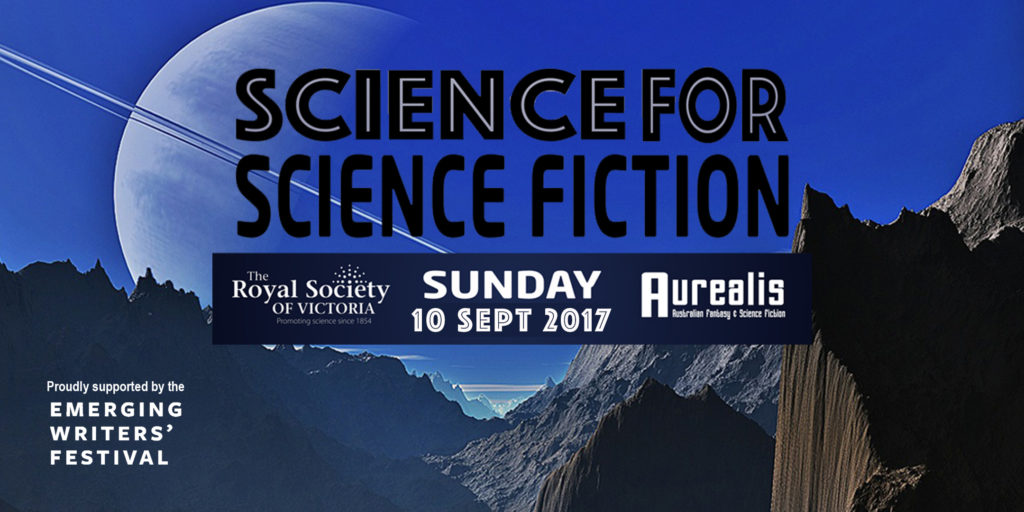 A conference for new and established authors of science fiction: learn valuable writing techniques and draw inspiration from real science to hone your craft!
Science and Science Fiction: a Symbiosis?
How do we balance the frontiers of knowledge and the imagination?
Our writer-focused conference program is designed to provide the insights that all science fiction writers can use to take their work to the next level. Featuring some of Melbourne's finest authors, scientists, publishers, communicators and educators, we will provide current and aspiring authors with expert insights on the finer points of the fiction writer's craft. Spend a day learning techniques for honing your manuscript and take the opportunity to learn to pitch your story to literary agents and publishers with some one-on-one coaching.*
We will also get your imagination firing from a foundation of solid science. The day will feature insights from working scientists (all with a taste for science fiction) to help dispel some common misunderstandings of scientific principles in classic mechanics, genetics and cloning, the mind-blowing nature of time, space, electromagnetism, quantum mechanics and the universe itself.
Science fiction in all its forms is one of the best science engagement avenues at our disposal, yet to accommodate a readership frustrated with "pseudoscience," it's important for writers to draw inspiration for science fiction from science fact, particularly to satisfy the tastes of science-literate individuals who represent a large (and vocal!) proportion of the SF audience. Discover some of the latest trends, developments and discoveries in science that offer fertile ground for your SF stories.
All participants will receive:
Insights and guidance on genres within science fiction; writing dystopias, climate-based SF, 'hard' SF junior and young adult fiction
Technical guidance on story creation; world building, "dos and don'ts"
Industry insights to getting published, including digital storytelling and alternative platforms
An opportunity to pitch your story idea to a publisher for coaching and feedback
The ability to network with fellow science and speculative fiction writers. Share ideas, and even your work if you choose
Insights and hot tips from Victorian scientists who share your enthusiasm for science fiction
A limited edition, print copy of Aurealis Magazine's latest edition
Fully catered for morning tea, lunch and afternoon tea. Register now for a great day of science for your science fiction, in Victoria's oldest learned society!
*please note signing up for a pitch session or being asked to send your full manuscript is not a guarantee of finding representation or publication.
A Royal Society of Victoria event, presented in partnership with Aurealis Magazine and proudly supported by the Emerging Writer's Festival.
Featuring:
Justin Ackroyd, Dr George Aranda, Dr Alan Duffy, Sophia Frentz, Stephen Higgins, George Ivanoff, Kat Clay, Sean McMullen, Dr Meg Mundell, Dr Kevin Orrman-Rossiter, Michael Pryor, Jane Routley and Dirk Strasser.
Date/Time
Date(s) - Sunday 10 September, 2017
8:30 AM - 5:00 PM
Location
The Royal Society of Victoria