Sophia Frentz – RSV Councillor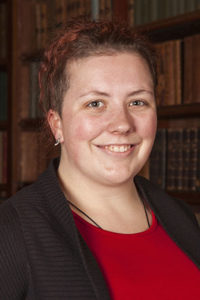 Dr Sophia Frentz is currently working as an Analyst at Deloitte in the Technology, Strategy, and Architecture team, which technically means they're an IT professional. They obtained their PhD from the Murdoch Children's Research Institute and the University of Melbourne in 2018, focusing on mitochondrial disease and testing a potential treatment.
They were named one of 20 young Australians on the cusp of greatness, despite being a Kiwi, and were recently featured in "20 scientists to watch" in the RiAus Ultimate Science Guide.
Sophia was the Vice President of Women in Science and Engineering at the University of Melbourne, was an MC for Pint of Science in Melbourne, and is vocal on Twitter. They have written for The Conversation, The Cusp, Archer, and Lateral Magazine.
Sophia is passionate about diversity in STEM, science communication, and human rights in every form, and is a talented and experienced speaker. From 2017, Sophia co-chairs the Society's Membership and Mentoring Committee with Associate Professor Gavin Smith.